Ford F-150 EV Could Bring Back Lightning Moniker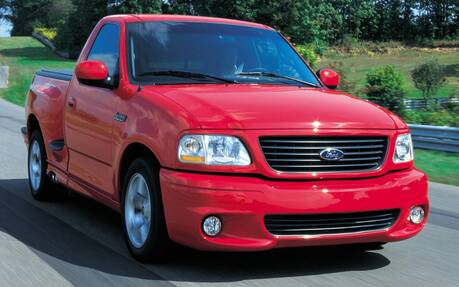 After resurrecting the Mach 1 name for the latest and most potent iteration of the 5.0-litre V8-powered Mustang, Ford is reportedly set to bring the famous F-150 Lightning back from the past.
Make no mistake: there are no plans to build another sport/street truck with large wheels and a low ride height like the one created by Ford's Special Vehicle Team (SVT) in the mid-1990s and early 2000s.
According to a document obtained by Car and Driver, the new Ford F-150 Lightning will become the all-electric variant of the F-150 that the Blue Oval is currently developing for a launch in mid-2022.
Purists be damned, we think it's pretty clever. After all, nothing is more electrifying than a lightning.
The F-150 EV, which is undergoing tens of thousands of hours of torture testing and targeting millions of simulated, laboratory and real-world test kilometres, will deliver more horsepower and torque than any F-150 on sale today, Ford previously said. 
We've also been told that two electric motors will drive this zero-emission F-150 and allow customers to tow heavy loads as they would with a conventionally powered pickup.
There will be no thunder to go with the lightning this time. Unlike the 1999-2004 F-150 SVT Lightning, which came with a loud, supercharged 5.4-litre V8 producing as much as 380 horsepower and 450 pound-feet of torque, the new model will obviously be super-quiet—unless Ford decides to pump fake noise into its electric truck.  
We should get all the important details by the end of this year following an official reveal. Production is expected to begin early next year at a new EV plant in Dearborn, Michigan. As previously mentioned, the first deliveries will be made in the summer of 2022. U.S. customers will likely have priority over Canadian customers, however, as is the case with the GMC Hummer EV.
Watch: Electric Ford F-150 Prototype Undergoes Testing