2021 Rolls-Royce Ghost: Like Floating on a Cloud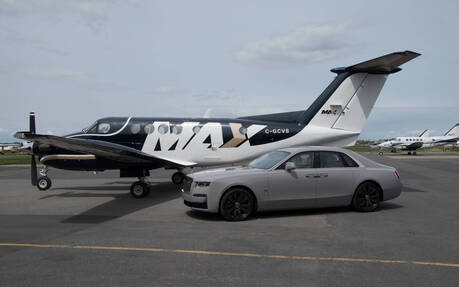 The Rolls-Royce Ghost is all-new for 2021. It retains the brand's unique design language and a connection with its predecessors while making significant headway on the technological front.
The intriguing mix of classic and modern is the first thing that caught our attention as we took a seat inside this larger-than-life automobile, whose supremely smooth ride makes you feel like you're floating on a cloud.
Unlike the original, which shared its platform with the BMW 7 Series, the new Ghost is built on a brand new, all-aluminum "Architecture of Luxury" that also underpins the Phantom and Cullinan. The same goes for the Ghost Extended, which is 17 centimetres longer for extra rear-seat legroom.
Pretty much everything on this Ghost has been revised and improved. The only exceptions are the umbrella holders within the rear doors and of course the Spirit of Ecstasy that magically pops up from the tip of the hood when you unlock the car.
The 2021 Rolls-Royce Ghost stands over 5.5 metres long and 2.1 metres wide while tipping the scales at more than 2,500 kilograms, numbers that compare to a Cadillac Escalade. It's powered by a BMW-sourced, twin-turbocharged 6.75-litre V12 engine mated to an eight-speed ZF automatic transmission. The previous generation was RWD only, but this one benefits from AWD for extra confidence on the road. Output is rated at 563 horsepower, while peak torque of 627 pound-feet is delivered barely past idle at just 1,600 rpm.
Quiet Riding
That colossal amount of torque sends the new Ghost from 0-100 km/h in 4.5 seconds, incredibly. But until you hammer the throttle, you would never suspect that a big V12 lurks beneath the hood. Whether at idle or in low-speed driving, the engine is almost inaudible.
The car proves shockingly flexible thanks to the wide torque curve and nearly seamless gear shifts. The transmission essentially feels like an infinitely variable, single-speed unit.
Noise insulation, of course, was a top priority for Rolls-Royce engineers when developing the latest Ghost. Some 200 pounds of sound-deadening material are used around the doors, roof and hood, while double-layer acoustic glass wraps the cabin. Efforts to achieve superior levels of quietness even extend to the HVAC ducts and driveshaft.
At highway speeds, all you'll hear is slight wind noise coming from the large side mirrors. The redesigned Ghost, incidentally, boasts a drag coefficient of 0.33, which also helps lower fuel consumption. We averaged 18 L/100 km, or what you'd expect from such a hefty sedan.
Regal Comfort
Inside the 2021 Rolls-Royce Ghost, comfort is taken to a stratospheric level thanks in part to a "Magic Carpet Ride" adaptive suspension that utilizes GPS data and a windshield-mounted camera to scan the road ahead in order to anticipate road conditions and ensure the smoothest ride possible.  
Furthermore, engineers have incorporated a world-first Upper Wishbone Damper unit above the front suspension assembly, creating an even more stable and effortless ride by cancelling high-frequency vibrations.
It all works remarkably well in virtually any driving scenario, contributing to that unique feeling of floating on a cloud. Of course, there is only so much the sophisticated suspension can do to mask road imperfections. When you encounter rougher stretches of pavement, you can feel a bit of trepidation in the ride. If Rolls-Royce wants to keep working on it, we have a few suggestions of places in Quebec and Northern Ontario where engineers could do some tests.
Haute Couture
Inspired by the range-topping Phantom, but more restrained, the so-called "post-opulent" new interior naturally overflows with open-pore wood and high-grade leather. Complex, busy stitching has been eschewed for scant but incredibly long and perfectly straight lines. Fit and finish is extremely impressive. Echoing the Starlight Headliner is an illuminated dashboard featuring 850 stars.  
Designers have retained classic Rolls-Royce controls for the HVAC system (you can't adjust cabin temperature in increments of half a degree), while the Power Reserve indicator in the instrument panel replaces the tachometer. A sign of modern times, BMW's iDrive infotainment system has been adapted for the Ghost, complete with the rotary controller on the console.
Rear passengers enjoy maximum comfort and convenience with adjustable seats, power-folding tables, and monitors built into the front seatbacks. Our tester was even optioned with a small refrigerator large enough to hold a Champagne bottle and two crystal glasses.
Unlike several luxury brands, however, Rolls-Royce still does not offer alternative seating surfaces and finishes made with recycled or leather-free materials.
Pricing for the 2021 Rolls-Royce Ghost starts at $343,140, though ours was full of options and bespoke elements pushing the total to $461,074. Other models built on the same new platform will soon replace the departing Wraith and Dawn. In the meantime, if you can afford it, the Ghost is more than capable of taking you to seventh heaven.
Test drive report
Test model

2021 Rolls-Royce Ghost

Trim level
N/A
Price range
$343,140 – $500,000
Price as tested
461 074 $
Warranty (basic)
N/A
Warranty (powertrain)
N/A
Fuel economy (city/highway/observed)
19,9 / 12,7 / 18,0 L/100km
Options
N/A
Competitive models
Bentley Flying Spur, Mercedes-Benz S-Class
Strong points

Supreme comfort
Colossal torque
Standard AWD
Unique styling

Weak points

Scary fuel consumption
Massively expensive
Dizzying selection of options

Editor's rating
Fuel economy
At 18 L/100 km combined, even full-size SUVs are more efficient.
Comfort
Comfort is nothing short of regal.
Performance
With colossal torque available from 1,600 rpm, the Ghost can take off in a hurry.
Infotainment
BMW's iDrive system has been adapted for the Ghost.
Driving
Our only complaint is the heavy weight.
Overall
A true work of art.