2022 Mitsubishi
Eclipse Cross

: Not so Small, No so Good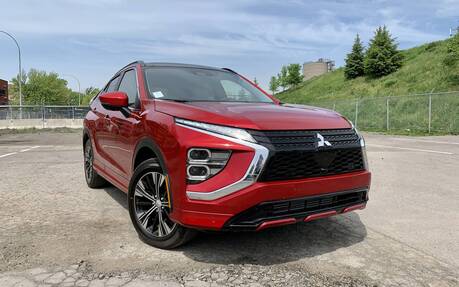 Despite a number of revisions for the 2022 model year, the Mitsubishi Eclipse Cross is still not sure which group it belongs to. Is it a subcompact SUV, or a compact SUV?
And no matter what the answer is, is it any good? We had the opportunity to put the vehicle to the test a few days ago, and here are our first impressions.
Blurring the Line
Originally introduced for 2018, the Eclipse Cross blurs the line between small and not-so-small SUVs. On one hand you have the RVR, which is a real subcompact model. On the other hand, the Outlander is a proper compact SUV, albeit a large one with available third-row seating.
Mitsubishi thought there was a void to fill—because you can never have too many SUVs and crossovers, right?—and that's why the Eclipse Cross came to be. But the reality is that this inbetweener is too expensive to compete with subcompact SUVs, and not competent or sophisticated enough to seriously challenge the Toyota RAV4, Subaru Forester and the like.
Oh, by the way, there is no 2021 model. Mitsubishi decided to skip a year and move straight to 2022.
A Few Changes
So the Eclipse Cross has been around for a couple of years now, borrowing part of its name from the sporty coupe and convertible the Japanese automaker previously sold. It gets a series of updates for 2022, starting with refreshed front and rear styling that is more in line with current Mitsubishi products.
Furthermore, the new Eclipse Cross is 140 millimetres longer, which results in 18 percent extra cargo capacity. Body rigidity is increased, too.  
Unpleasant CVT
What doesn't change is the powertrain. The 2022 Mitsubishi Eclipse Cross continues to rely on a turbocharged 1.5-litre four-cylinder engine that delivers 152 horsepower and 184 pound-feet of torque through a continuously variable transmission. We bet few owners will complain, but this CVT makes the engine particularly noisy, even during mild accelerations.
It's too bad because the engine itself has what it takes to satisfy most types of drivers. Displacement and output are a good match considering the vehicle's size, but overall performance is decent at best. As for fuel consumption, Natural Resources Canada has yet to rate the 2022 Eclipse Cross. During our time behind the wheel, in near-perfect weather conditions, the number ranged from 8.5-9 L/100 km.
It'll Make You Hate the Wind
Despite the updated design and slightly improved build quality, the Eclipse Cross remains just as noisy as it was. We're talking about road noise and wind noise, here. Speaking of which, the vehicle is seriously affected by strong winds, which has a big impact on interior comfort. On a positive note, the lateral support from the front seats is beyond reproach.
When it comes to the infotainment system, Mitsubishi had the wise idea to eliminate the touchpad on the centre console. However, this doesn't change the fact that the system is outdated compared with the competition.
Two Strong Arguments
Giving the Mitsubishi Eclipse Cross an edge over any rival is the automaker's 10 years/160,000 km power warranty combined with basic coverage of 5 years/100,000 kilometres. How great is that for peace of mind?
Moreover, unlike a majority of competitors, the Eclipse Cross comes standard with all-wheel drive. And it's a proven system, too—what Mitsubishi calls "Super All Wheel Control" (S-AWC).
The 2022 Eclipse Cross carries a base MSRP of $28,598, which barely undercuts the average compact SUV. The top-line GT model costs just under $37,000. Consider that a Toyota RAV4 with AWD retails from $30,690, while the Subaru Forester can be had for just $28,995. The decision is easy to make.
Test drive report
Test model

N/A

Trim level
GT S-AWC
Price range
$28,598 – $36,998
Price as tested
36 998 $
Warranty (basic)
5 years/100,000 km
Warranty (powertrain)
10 years/160,000 km
Fuel economy (city/highway/observed)
9,6 / 8,9 / 8,9 L/100km
Options
N/A
Competitive models
2021 Jeep Compass, 2021 Mazda CX-30, 2021 Chevrolet Trailblazer
Strong points

Great, lengthy warranty
S-AWC system

Weak points

Stuck in between two segments
Noisy cabin
Outdated infotainment system
Unpleasant CVT

Editor's rating
Fuel economy
Decent at best.
Comfort
The vehicle lacks noise insulation. Also, you have to be mindful of strong winds.
Performance
Performance is just good enough.
Infotainment
The infotainment system's operation and graphics could definitely be improved.
Driving
The driving experience would be fairly pleasant if it were not for the lack of noise insulation.
Overall
Despite various changes and upgrades for 2022, the Eclipse Cross is not in a position to shine among subcompact SUVs or compact SUVs.