This Toyota Venza Dressed as Lamborghini Urus Won't Fool Anyone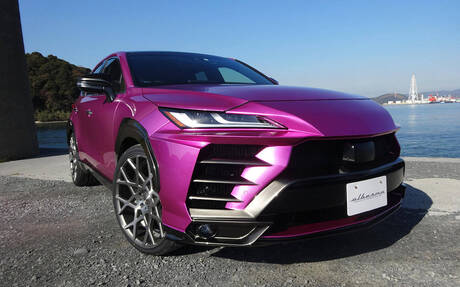 Remember when Albermo transformed a Toyota RAV4 into a Lamborghini Urus last year? Well, the Japanese tuning shop is at it again, this time with the Toyota Venza.
Its latest conversion kit might be more impressive since the hybrid crossover has more rounded shapes than the RAV4 and looks nothing like the extremely angular Italian performance SUV.
For starters, there's a custom front bumper that loosely replicates the huge air intakes on the Urus. Then you have fender flares and exotic-looking wheels on the sides. The Venza's headlights remain unchanged since they are kind of similar to the Urus'.
In the rear, the bumper is modified to incorporate a fake diffuser and sport exhaust system with dual tips. Higher up, Albermo added a second black-finished spoiler at the base of the rear window to complement the one that's already sitting at the top.
As for the wild fuchsia-coloured body, we have yet to come across a Lamborghini Urus in that particular hue, but it certainly fits the Italian brand more than Toyota. By the way, each component is sold separately and comes unpainted, so buyers can paint them any colour they want.
Whatever you think about the design and overall result, the performance delivered by this modified Venza won't fool anyone. That's because the hybrid powertrain received no upgrades and still puts out 219 combined horsepower versus the Lambo's 641 ponies.
We don't know exactly who would want to buy this body kit, but as far as car conversions go we've seen much better work elsewhere including at SEMA.
Watch: Meet the Real Lamborghini Urus