2022 Mitsubishi Outlander: Doomed by the Third Row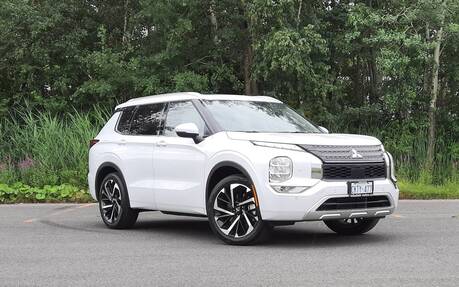 The completely redesigned 2022 Mitsubishi Outlander is essentially the opposite of the Subaru Forester, which is a practical but conservative SUV.
Extremely bold and modern, the new Outlander marks a radical evolution from its predecessor. However, we experienced quite a bit of frustration while spending a full week in it with the family and all sorts of cargo.
In Your Face
Let's face it, Mitsubishi designers had an easy job improving the old Outlander, but in our opinion they went completely overboard. While the 2022 model does look great from the side or the rear, especially with the available 20-inch wheels (man, think about the cost of winter tires to put on them), it's arguably one of the most hideous vehicles on the market when viewed from up front.
What's more, the hood incorporates a section of the front fascia (the part with the horizontal bars and Mitsubishi logo) and proves relatively heavy to manipulate. There are no gas struts to support the hood when opened, either.
More Noise Than Acceleration
As you may know by now, the 2022 Mitsubishi Outlander offers a single engine option which it shares with the latest-generation Nissan Rogue. This naturally aspirated 2.5-litre four-cylinder delivers 181 horsepower and 181 pound-feet of torque, so don't expect any miracles on the road.
Average fuel consumption is officially rated at 8.9 L/100 km, which isn't too bad for a compact SUV with all-wheel drive, while maximum towing capacity is 2,000 pounds (previously 1,500 pounds with the 2.4-litre engine). The 3.0-litre V6 is gone, and that's a shame because it could tow up to 3,500 pounds.
The 2022 Outlander goes from fairly quiet in normal driving to unnecessarily loud under hard acceleration—which by the way isn't very explosive, even in Tarmac (sport) mode. The CVT doesn't help, although we appreciated the simulated gear changes. And speaking of the transmission, the new stubby shifter lacks precision, for example when going from park to reverse. We got used to it after a while, but it's still annoying.
Smooth But Not Sporty
When it comes to the drive, the new Mitsubishi Outlander proves smooth and relaxed but doesn't excite the senses in any way. It's a clear case of ride quality over agility, as evidenced by the significant amount of body roll in corners. This is a vehicle that appears to drive bigger than it really is.
On a positive note, Mitsubishi's Super All Wheel Control system (included as standard) is just as effective as it is transparent, whether on dry/solid or wet/loose pavement. You can always take off and attack turns with confidence. The numerous standard active safety features also provide peace of mind, but unsurprisingly the most sophisticated driver assistance technologies are exclusive to the top-line GT model whose MSRP exceeds $41,000.
Heaven and Hell Inside
The interior of the 2022 Mitsubishi Outlander impresses with much higher levels of refinement than the previous generation. The overall layout is just superb, from the revised centre console to the slick touchscreen (8 or 9 inches), digital instrument cluster (7 or 12.3 inches) and available head-up display (10.8 inches). The seats are comfortable and space is generous in the first two rows, while visibility is commendable.
Alas, it all goes downhill from here. The Outlander is now exclusively a seven-passenger SUV and the third row is a real nightmare. First of all, the second-row seats are not so easy to manipulate, and access to the rear is fairly tight. In addition, headroom and legroom is simply ridiculous, even for kids. Sure, you can slide the second row forward to create more space, but not if an adult or teen is already sitting there.
Because there's no more five-passenger option, trunk capacity behind the rear seats is 332 litres (+40 from the previous three-row model). We had to fold the seats down on multiple occasions in order to haul everything we wanted. Of course, that's not possible when the third row is occupied. On the bright side, the Outlander's total cargo capacity is 2,257 litres, which trumps the acclaimed Honda CR-V.
A few electronic issues also tarnished our test drive. One time, the power-folding mirrors wouldn't deploy when unlocking the vehicle, so we had to manually put them back in place. Another time, neither the keyfob nor the proximity sensor were working, and the physical key was needed to access the cabin.
Oddly Positioned
Having eliminated the V6 like most rivals, Mitsubishi kept the third row in the Outlander in a continued effort to stand out, but it's probably a mistake as too many sacrifices are required.
Considering there are two smaller SUVs in the lineup (RVR and Eclipse Cross), Mitsubishi should enlarge the Outlander and make it a proper midsize vehicle for Canadian families who need three rows of seats. But then the V6 would have to return. Maybe the Nissan Pathfinder's engine could be a solution.
Watch: 2022 Mitsubishi Outlander Overview
Test drive report
Test model

2022 Mitsubishi Outlander

Trim level
GT S-AWC
Price range
$31,998 – $52,198
Price as tested
CA$41,678
Warranty (basic)
5 years/100,000 km
Warranty (powertrain)
10 years/160,000 km
Fuel economy (city/highway/observed)
9.7 / 7.9 / 9.0 L/100km
Options
N/A
Competitive models
2022 Chevrolet Equinox, 2021 Ford Escape, 2021 GMC Terrain, 2021 Honda CR-V, 2022 Hyundai Tucson, 2021 Kia Sportage, 2021 Mazda CX-5, 2021 Nissan Rogue, 2021 Subaru Forester, 2021 Toyota RAV4, 2022 Volkswagen Tiguan
Strong points

Smooth ride
Beautiful interior layout
Great AWD system

Weak points

Polarizing looks
Lacks power
Third row is a nightmare

Editor's rating
Fuel economy
Not too bad for a compact SUV with all-wheel drive.
Comfort
The ride is smooth, while the first two rows are comfortable and spacious. Avoid the third row at all costs.
Performance
The 2.5-litre engine is a bit short on power and doesn't really like hard acceleration.
Infotainment
The centre display and instruments are pretty slick, but could be tad cleaner and simpler.
Driving
We like the level of comfort and safety. Nothing excites the senses, however.
Overall
What a bold transformation. That being said, we'd prefer the Outlander as a proper midsize SUV.