2022 Mitsubishi Outlander: Vastly Improved and More Serious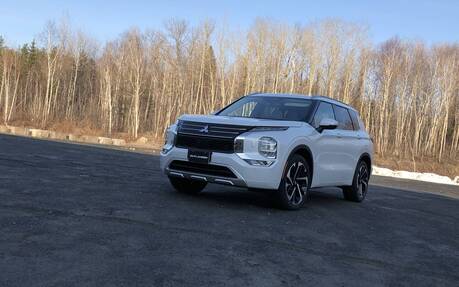 This time it's real. After updating the old Outlander many times but not really making significant changes, Mitsubishi is finally introducing a brand new model.
The next-generation 2022 Mitsubishi Outlander is about to land in Canadian showrooms and we at The Car Guide had the opportunity to put it to the test. Below are our first impressions.
New Cousin
Before we go any further, here's something you should know. The 2022 Outlander is the company's first product to use a platform developed by the Renault-Nissan alliance, which Mitsubishi has been a part of the since 2017. Many components are shared with the new-for-2021 Nissan Rogue—not just the platform but also the engine and transmission.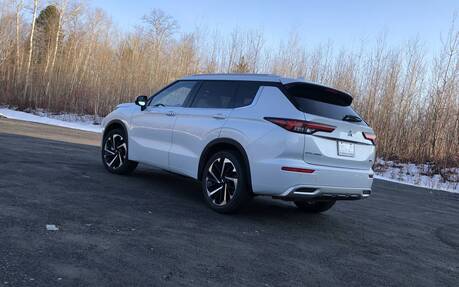 Both vehicles look and feel similar in a number of ways, especially when you step inside. The new Mitsubishi Outlander essentially has the same interior layout as the Rogue, from the touchscreen to the shifter and everything in between. Even the steering wheel is identical… except for the logo, of course.
Now, this is not a bad thing, mind you. The latest Rogue is an award-winning SUV, and the 2022 Mitsubishi Outlander deserves just as much consideration and praise.
Mitsubishi designers managed to inject the Outlander with unique DNA and character. It all starts at the front with a bold fascia that may not please everybody, but will still turn heads. The Outlander also stands out with Mitsubishi's Super All-Wheel Control (S-AWC) system, standard three-row seating and class-leading 10-year/160,000-km powertrain warranty.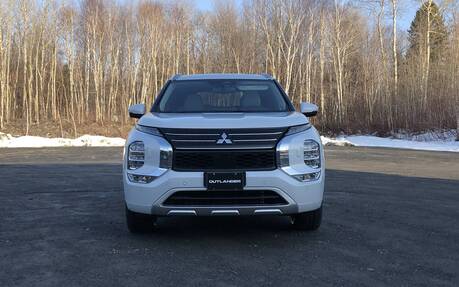 How's the Drive?
We're happy to report the many hard plastics inside the previous Outlander have been replaced by higher-quality, soft-touch materials. Fit and finish is impressive, too, resulting in an unprecedented level of refinement.
Granted, our tester was a top-line GT model priced above $40,000, but even in base trim (starting at $31,998) you will find plenty of features and sophistication, including the aforementioned S-AWC system that Mitsubishi owes much of its reputation to.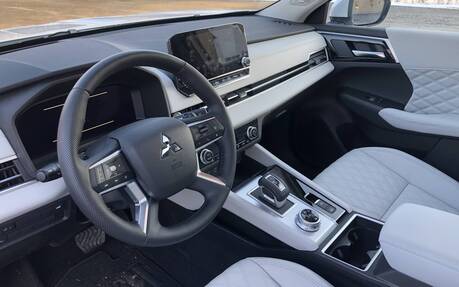 After just a few minutes behind the wheel, it becomes pretty clear that the ride and handling are vastly improved. The new Outlander's steering provides just enough feedback, while visibility is outstanding. We also liked the comfortable first- and second-row seats. The third row, once again, is best left for kids, although we wouldn't recommend long trips with more than five people inside.
The centre console features a large dial allowing drivers to select one of six different modes (Eco, Normal, Tarmac, Gravel, Snow, Mud) that considerably alter the vehicle's dynamics. We particularly enjoyed Tarmac mode, which brought a little more sportiness to the equation and helped the transmission get the most out of the engine.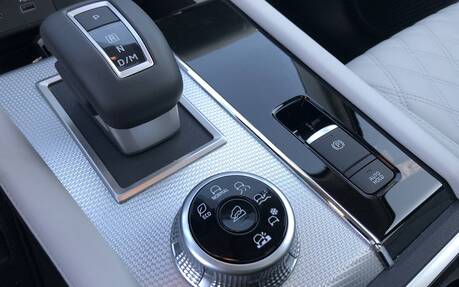 As mentioned earlier, we're talking about the same 2.5-litre four-cylinder found under the hood of the Nissan Rogue. Producing 181 horsepower and 181 pound-feet of torque, it delivers decent acceleration while providing pretty good fuel economy (we recorded an average of 8.7 L/100 km). The continuously variable transmission, also borrowed from Nissan, does a fine job overall of not annoying drivers like so many CVTs typically do.
Some potential customers will be turned off by the loss of the V6 engine, which gave the Outlander a maximum towing capacity of 3,500 pounds. The new 2022 model is somehow capable of pulling 2,000 pounds, Mitsubishi claims, despite the fact that the Rogue is limited to 1,350 pounds.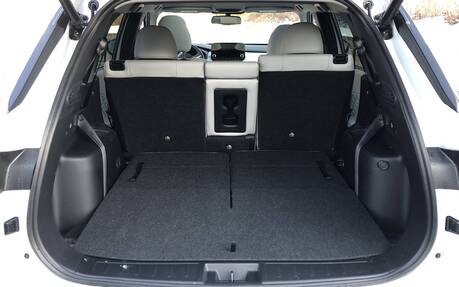 Modern Tech
From a technology standpoint, the alliance with Nissan is once again benefiting Mitsubishi. There are several advanced safety and driver assistance features available including a semi-autonomous driving system which is basically a version of Nissan's ProPilot Assist.
By pressing a button, the adaptive cruise control and lane-keeping systems combine to enable stress-free driving on single highway lanes. Drivers must still keep their hands on the steering wheel, however. And if there's a little bit of snow blocking some of the sensors or cameras, forget it.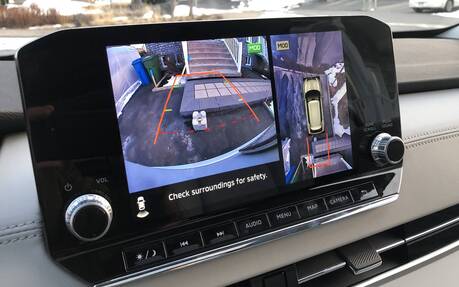 The available nine-inch centre touchscreen is similar to the Rogue's, but the graphics are not very attractive and the infotainment system itself is disappointingly slow to respond to input. Android Auto and Apple CarPlay compatibility comes standard, fortunately. On the other hand, we wish the display was positioned a bit closer for easier access to some of the controls.
A Satisfying First Test
Mitsubishi faced a big challenge when redesigning the Outlander for 2022. Based on our first-drive experience, we'd say it's mission accomplished. Despite the fact it now costs just under $32,000 in base trim, you will get plenty of bang for your buck.
The Mitsubishi Outlander is vastly improved overall and a much more serious threat to competitors. Here's hoping the plug-in hybrid variant, due sometime next year, will also meet expectations.
Test drive report
Test model

2022 Mitsubishi Outlander

Trim level
GT S-AWC
Price range
$31,998 – $42,178
Price as tested
41 678 $
Warranty (basic)
5 years/100,000 km
Warranty (powertrain)
10 years/160,000 km
Fuel economy (city/highway/observed)
9,7 / 7,9 / 8,7 L/100km
Options
N/A
Competitive models
2021 Toyota RAV4, 2022 Hyundai Tucson, 2021 Honda CR-V, 2021 Nissan Rogue, 2021 Mazda CX-5
Strong points

Comfortable seats
Standard AWD
Excellent warranty

Weak points

Infotainment system needs work
No more V6
PHEV variant to come next year

Editor's rating
Fuel economy
Par for the course. PHEV variant coming next year.
Comfort
This is an area where the Outlander shines.
Performance
Performance is decent. We miss the old V6.
Infotainment
The system is easy to use, but the graphics should be revised.
Driving
Nothing to write home about. Still, handling is great.
Overall
Solid construction, excellent warranty and competitive pricing makes for a winning combination.