Rugged Mercedes-Benz C-Class All-Terrain Makes Us Even More Envious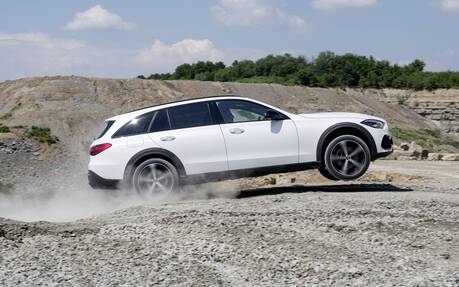 The fifth-generation 2022 Mercedes-Benz C-Class will arrive in Canadian showrooms in the first quarter of next year, but don't look for the wagon because it's not returning to our shores. The long-roof body style is currently not available in the U.S., and the company has decided to offer the same lineup across North America.
What a shame. Why? If it did come here, we'd likely have this sweet new C-Class All-Terrain Wagon pictured here ahead of its world premiere at the International Motor Show in Munich in September. The model takes a direct jab at the beautifully rugged Audi A4 allroad and V60 Cross Country.
It's aimed at adventurous families who find conventional wagons less than suitable off-road, and SUVs too high-legged. With 40 millimetres of extra ground clearance, standard 4MATIC all-wheel drive, a slightly upgraded suspension and two off-road driving modes, this versatile C-Class can take on all sorts of obstacles. Plus it doesn't mind a few jumps, as shown up top.
Other highlights include wider wheels and tires for increased stability, special bumpers, simulated underride guards at the front and rear, as well as wheel arch cladding in matte dark grey plastic. By the way, the C-Class All-Terrain Wagon rides on exclusive wheels ranging from 17-19 inches in diameter.
The interior is largely unchanged except for an Off-Road display on the digital instrument panel, with specific information such as the incline, decline, steering angle, geocoordinates and a compass. A chrome-plated trunk sill guard is included, too.
Equipped with a newly developed, turbocharged 2.0-litre four-cylinder engine that produces 255 horsepower and 295 pound-feet of torque, and backed by a 48V mild hybrid system providing an additional 20 horsepower and 147 pound-feet of torque in certain situations, the Mercedes-Benz C-Class All-Terrain Wagon can tow up to 1,800 kilograms. A partially electric trailer hitch with swivelling ball-head and ESP trailer stabilisation are available, just like a trailer manoeuvring assistant that automatically regulates the steering angle of the towing vehicle up to a speed of 5 km/h and up to a gradient of 15 percent.
So, yeah, we're pretty bummed that we can't have this model in Canada. Mercedes-Benz customers can always turn to the larger E-Class All-Terrain Wagon, but it's less agile and much more expensive with a base price of $80,900. Let's keep dreaming.