2022 Hyundai Kona N: A New Kind of Hot Hatch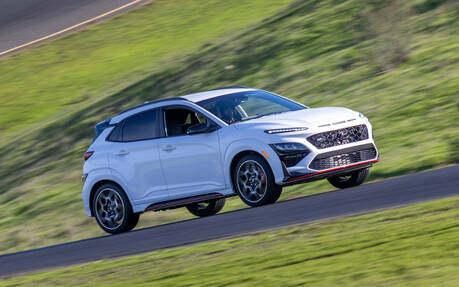 The first-generation Volkswagen Golf GTI, launched in 1976, is widely considered as the original hot hatch, an expression used to describe a sporty compact car with a rear liftgate, juiced-up engine and dynamic chassis.
The GTI is now accompanied by the Golf R and several other models from rival automakers around the world, although sales are not what they used to be.
It's no secret that SUVs are all the rage these days, so Hyundai cooked up a high-performance N variant of the popular Kona to go alongside the existing Veloster N as well as the new Elantra N. In case you missed our first-drive review of the latter, you should click on the link.
On the Track
We headed to Sonoma Raceway in California to put the Kona N through its paces. Let me just say right off the bat that this thing is a blast to drive. For a small crossover, it proved amazingly confident one hot lap after another.
The Kona N loves to play, and while some understeer can be felt at the limit the electronically controlled limited-slip differential does a great job of putting power to the ground. There's just enough torque steer under hard acceleration (like when sprinting out of a corner) to feel a bit on the edge behind the wheel. Steering is not quite as sharp as the Golf GTI's, mind you.  
Another key element that works in the favour of the Kona N is a set of specially developed Pirelli P Zero tires wrapping the styling 19-inch alloy wheels.
Delightful Soundtrack
The turbocharged 2.0-litre four-cylinder engine is a willing performer, and the exhaust system is tuned to deliver a series of pops and crackles that add to the turbo whistle for a delightful soundtrack.
The only transmission available with the Kona N is an eight-speed dual-clutch unit featuring what is called Track N Sense Shift. This special mode is so perfectly adapted to track driving that the paddle shifters essentially become useless. The transmission always selects the right gear and makes extremely short work of downshifts when approaching corners. I tip my hat to the engineers at Hyundai.
Another mode is N Grin Shift, which activates an overboost function that raises output from 276 to 286 horsepower for up to 20 seconds. It's super-cool to experience both on straightaways and quick S-turns.
More N Magic
But why stop there, right? Customizable N buttons on the steering wheel can be set to toggle driver-defined custom modes. The custom modes can be pre-set according to each driver's preferences (e-diff, adaptive suspension, active exhaust and more). The buttons can also activate a lap timer.
The only issue is that the Kona N comes with FWD exclusively. Unlike the regular Kona, there is no AWD option. That's a shame because it could make a real difference especially for Canadian drivers facing harsh winter conditions.
On the Road
We also had the opportunity to test drive the Kona N on public roads, but the experience wasn't as pleasant. The sport-tuned suspension that makes the vehicle so great and fun on the track results in a stiff and noisy ride on less than slick pavement. The Kona N also can't escape its short wheelbase, which affects comfort on bumpy surfaces.
The interior is rather budget-looking despite the sport seats, aluminum pedals and N-specific displays. It's not as refined as the Mazda CX-30 Turbo's.
The 2022 Hyundai Kona N will arrive in dealerships in January, with customers having no options to choose from other than picking one of six available body colours. Canadian pricing has yet to be announced. We should find out closer to launch
Test drive report
Test model

2022 Hyundai Kona

Trim level
Kona N
Price range
N/A
Price as tested
N/A
Warranty (basic)
N/A
Warranty (powertrain)
N/A
Fuel economy (city/highway/observed)
N/A
Options
No option beyond colour selection
Competitive models
2022 Volkswagen Golf GTI (auto), 2022 Mazda CX-30 GT AWD Turbo
Strong points

Fantastic engine
Advanced dual-clutch transmission
Great handling
N-tuned chassis ideal for the track

Weak points

No AWD
Stiff ride on rough pavement
Wind noise and road noise
Cheap-looking interior

Editor's rating
Fuel economy
N/A Not evaluated during this test.
Comfort
As sharp as it is on the track, the Kona N is stiff and not so comfortable on public roads.
Performance
276 horsepower (or 286 with Overboost) and 0-100 km/h acceleration in 5.5 seconds.
Infotainment
The N-specific graphics and menus are nice. Apple CarPlay and Android Auto are both included.
Driving
A blast to drive.
Overall
Too bad AWD is not included.