2024 Hyundai Kona Shows Bold New Look in First Official Pics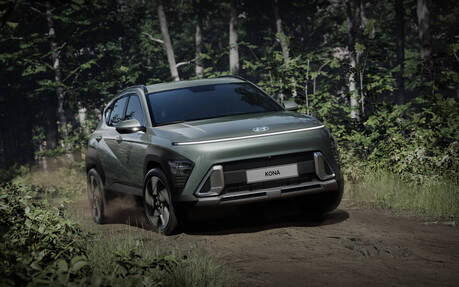 Hyundai has revealed the design of the next-generation Kona ahead of the start of sales in South Korea. In North America, the vehicle is expected to arrive next year as a 2024 model.
Remember, the best-selling subcompact SUV initially debuted in 2018 and received a significant update for 2022.
Bigger and funkier
The Hyundai Kona has always stood out with bold, funky styling, and the new generation goes even further. While retaining prominent body cladding around the wheel arches, the Kona adopts more angular shapes. The sharp diagonal crease of the sides is reminiscent of the Tucson, while the redesigned bumpers and lighting elements are a chunky mix of playful ruggedness and intriguing sci-fi, with so-called Parametric Pixels derived from the IONIQ 5.
One of the most eye-catching features, of course, is the thin, full-width LED strip acting as daytime running lights. Hyundai designers took a page from the futuristic Staria minivan, and they even used a similar approach for the taillights. It completely changes the Kona's face.
Oh, and the exterior dimensions are significantly larger, too. The all-new model has grown to 4,355 mm in length, which is 150 mm longer than the outgoing generation, based on the EV variant. It has also gained 25 mm in width and 60 mm in wheelbase. What about the newly styled 19-inch wheels? They look pretty sharp, don't they?
Serious Transformation Inside
The interior of the 2024 Hyundai Kona is radically changed to emulate the brand's latest products, particularly the EVs models.
The dual 12.3-inch displays and floating module impart a high-tech impression. With the column-type shift-by-wire relocated from the centre console to behind the steering wheel, it provides an uncluttered layout and additional space for belongings in the central tunnel.
Ambient lighting enhances the user experience. Also, the seats have been redesigned for increased comfort and space. Behind the second row is a slightly larger cargo area, as well.
Technical information and market-specific details are not available yet, but we can already tell you that all Kona models, regardless of their powertrain, will ride on the same architecture. Hyundai will have more to share in the coming months, so we'll keep you posted.