Exclusive

Audi TT RS and RS 3 Reportedly Being Dropped in Canada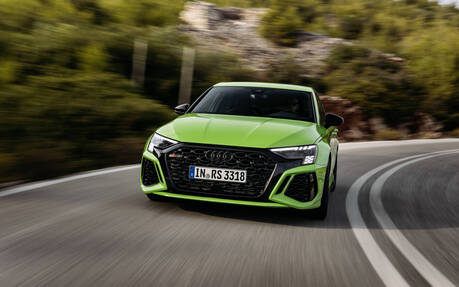 According to emails shared among Audi staff, which The Car Guide managed to get a copy of, the hot and mighty Audi TT RS and RS 3 are no longer part of the Canadian lineup.
Dealers were told that they will have to convince customers who have made a deposit for either one of those cars to consider another Audi model instead.
"Due to specific changes in the law for the registration of new vehicles in the Canadian market, it is no longer possible for Audi Canada to offer the five-cylinder engine," the company wrote in an email sent to The Car Guide.
If you go to Audi Canada's website right now, the high-performance variants of the TT and A3 are nowhere to be found. Only the A3 Sedan, S3 Sedan, TT Coupe, TT Roadster and TTS Coupe are listed.
The TT RS and RS 3 were the only ones to be blessed with the turbocharged 2.5-litre five-cylinder engine producing 394 horsepower. 
Earlier this month, Audi announced that the 2022 model year will be the last for the TT RS in the U.S. and unveiled a Heritage Edition limited to just 50 units as a sendoff.
As for the RS 3, a brand new generation made its debut just a few months ago. The Car Guide even flew to Greece in October to take it for a spin. What a shame it is to lose this model, too.
Watch: 2022 Audi RS 3 First Drive