Watch: Man Blows Up His Tesla
Model S

Instead of Replacing the Battery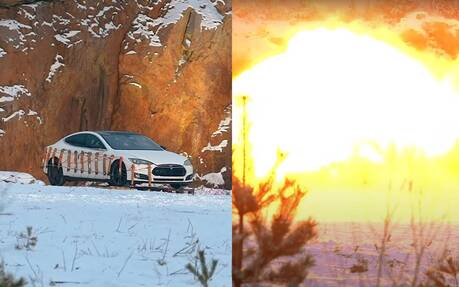 Just like last year, the holiday season isn't so fun and cheerful due to yet another rise in COVID-19 infections, so why not find some other ways to have a blast? Like, literally.
We think that's what a Tesla Model S owner in Finland said to himself. Earlier this month, Tuomas Katainen devised a plan to blow up his old car rather than having it fixed.
Wait, what?
The 2013 model owned by Katainen had gone through about a month of downtime following a bunch of trouble codes. It was later discovered that the entire battery back needed a replacement.
The operation would have cost him 20,000 euros (approx. $29,000), which Katainen refused to pay. For the record, used 2013 Tesla Model S sedans in Finland can be bought for over 35,000 euros.
With the help of friends, he brought the car to an old quarry and attached 30 kilos of explosive around the body. Some sort of mannequin wearing a snowmobile helmet with an Elon Musk face peeking through it was put behind the wheel.
The video below captures the whole experience. At the end, Katainen says he never had this much fun driving his Tesla. Well, good for him.