Watch: Audi e-tron Crashes in B.C., Battery is Ejected Upon Impact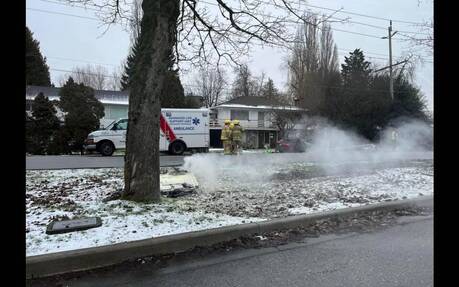 In a strange twist of events, the high-voltage battery of an Audi e-tron that crashed in Richmond, B.C. this week was ejected from the SUV and landed several metres away.
The accident occurred on Tuesday evening and forced police to close a section of Garden City Road, according to a report by the Richmond News. It was all captured by the rear camera of another vehicle that was driving nearby.
In the video, we can see the black Audi e-tron attempt a dangerous manoeuvre and crash into a white Toyota sedan at an intersection before flipping and hitting a power line pole. The battery detached from the Audi upon impact and ended up on the median further down the road, where it caught fire.
The 31-year-old man driving the Audi e-tron was not seriously injured in the crash, while the 49-year-old Toyota driver was sent to the hospital with non-life-threatening injuries.
"The inherent safety concerns from the downed power line pole and the battery pack fire required the area to be cordoned-off until safety and proper repairs could be met," Cpl. Dennis Hwang, Richmond RCMP spokesperson, told the Richmond News.
He added that this was the first such instance of an EV battery pack being ejected post collision. We've never seen anything like this before, either.
High-voltage batteries that power electric motors in modern EVs are typically mounted under the floor to maximize space and lower the vehicle's centre of gravity. They're designed as an integral part of the chassis.
So, what exactly happened here? Only a thorough investigation will provide answers. We'll update this story if and when Audi makes any comments or clarifications.
Watch: 2023 Audi Q8 e-tron Review