Nissan Makes $500M Push to Build Two New EVs in North America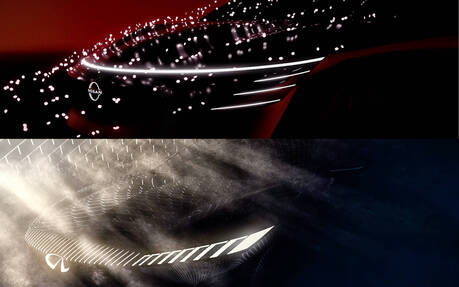 In a presentation at its Canton Vehicle Assembly Plant in Mississippi on Thursday, Nissan announced a $500 million USD investment to turn the facility into a centre for U.S. electric vehicle production beginning in 2025.
The factory currently builds the Altima sedan as well as the Frontier and Titan pickups. The Titan was scrapped in Canada following the 2021 model year and likely won't be renewed at the end of its cycle.
The half-billion dollars committed today pale in comparison to the huge amount of money GM, Ford, Toyota and Hyundai (just to name a few) plan to spend in the coming years in North America, though Nissan's chief operating officer Ashwani Gupta talked about "the first of several new investments that will drive the EV revolution in the U.S."
Two all-new models will be built in Canton at first, one representing Nissan and the other its luxury brand Infiniti. Check out the teasers:
The strange thing is that we see silhouettes of what look like traditional passenger cars. As you know, those aren't very popular anymore. Still, the design appears to be fresh and exciting, at least judging by the distinctive lighting signatures. Infiniti's model could be the production version of the Q Inspiration and Qs Inspiration concepts.
The two vehicles will join the 2023 Nissan Ariya that's about to launch in Canada, as well as a future small crossover slated to replace the LEAF.
Looking at the bigger picture, the Japanese automaker plans to introduce 23 electrified models globally by 2030, including 15 with an all-electric powertrain. It's also targeting 40 percent of its North American vehicle sales to be fully electric by the end of the decade.