Jeep Gladiator is Hiding in This Monstrous Build for Sale on eBay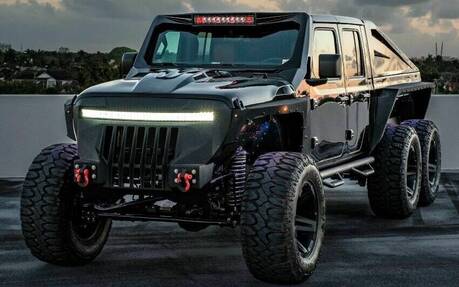 Remember the Ram 1500 TRX turned into a Warload 6x6 by Florida-based tuner Apocalypse and sold at a Barrett-Jackson auction in late January? Well, we'd like to talk to you about another monstrous creature from the company.
Apocalypse is used to transforming Jeep Gladiators for doomsday scenarios. In fact, some of its builds are called Doomsday, Sinister 6 and Hellfire. Up until today, a copy of the last one was listed on eBay at a whopping $219,999 USD.
Yes, we assure you that there's a Gladiator somewhere in there. Beyond the heavily modified chassis accommodating an additional axle and massive suspension, Apocalypse fitted large side steps, unique Kevlar fenders and a lockable cover over the stretched bed giving the truck Tesla Cybertuck looks.
Nicknamed "Oculus Tron," the front end is also completely bespoke and something to scare children with—from the large, red-painted tow hooks to the custom windshield frame and everything in between including a taller, meaner interpretation of Jeep's seven-slot grille, an LED light bar in place of the standard headlights and a power dome hood with intakes.
As for the engine, Apocalypse used the supercharged 6.2-litre Hellcat V8 and cranked it up to 750 horsepower. Power is actually transferred to all six wheels, unlike some other aftermarket 6x6 conversions.