Felicity Ace Cargo Ship Sinks in Shocking Turn of Events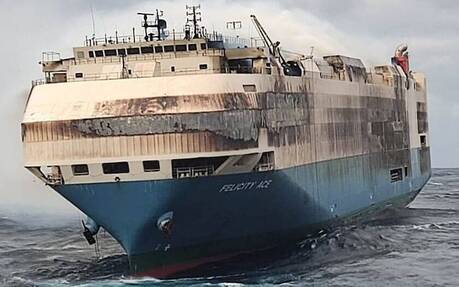 All hopes of salvaging some of the nearly 4,000 U.S.-bound Volkswagen AG vehicles aboard the Felicity Ace went down the ocean today as the cargo ship finally sank, Portuguese authorities and the ship's operator have confirmed.
After a fire broke out on February 16, all 22 crew members were quickly evacuated, leaving the ship adrift in the middle of the Atlantic.
Due to bad weather and strong waves, firefighters and salvage teams had to wait until just a few days ago to board the ship and assess the situation from up close.
Tug boats were called in to tow the ship back to a safe location, but the latter sank about 400 kilometres off the coast of Portugal's Azores Islands at around 9 a.m. local time today after waves pushed it 45 degrees to its starboard side.
According to a spokesperson for MOL Ship Management, a unit of Mitsui OSK Lines Ltd., teams remain in the area to monitor the situation. There doesn't appear to be any oil pollution yet, which might be the lone silver lining as far as the ship and its cargo are concerned.
For Volkswagen, which has not yet made any official statement about the sinking, the worst possible scenario has played out. It's now impossible to salvage some of the vehicles and restore them before they can be delivered to their customers.
Around 1,100 Porsches and 189 Bentleys were on board, spokespeople for the two brands confirmed. Automotive News reports that there are also approximately 1,900 Audis, 500 Volkswagens (including Golf GTI, Golf R, Arteon and ID.4 models) and 85 Lamborghinis.
Lamborghini of America CEO Andrea Baldi said last week that Urus, Huracán and Aventador models were inside the Felicity Ace. The Aventador recently came to the end of its life, so it's probable now that Lamborghini will have to resume production to replace lost units.
Risk-modeling company Russell Group has estimated there are $401 million USD worth of cars on the ship. Volkswagen is reportedly looking at the biggest loss, roughly $155 million USD. Damage to the vehicles is covered by insurance, the automaker previously said.