Unreliable Powertrains You Should Avoid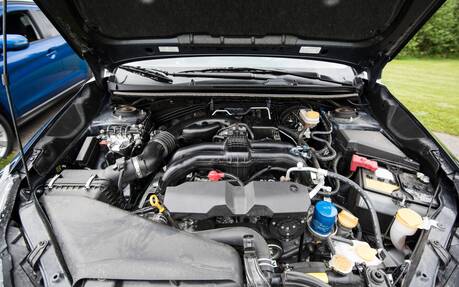 Engine performance and reliability are factors that buyers should consider when shopping for a used vehicle. No one wants to constantly go to the garage for costly repairs or be frustrated while driving because the engine is acting up or just plain disappointing.
To help you in your search, this time we thought we'd talk about problematic engines. Indeed, the way you use and maintain them can make a big difference, but still, there are some engines that we feel we should warn you about.
An Unenviable Top 10
In 2020, the American magazine Consumer Reports, well-known for its reliability studies, compiled a list of the 10 pre-owned vehicles with the worst engine reliability. Among them: the 2009-2010 Audi A4 2.0T, the 2008 Ford F-350 diesel, the 2008-2009 MINI Cooper, the 2010 Chevrolet Equinox, the 2006 Jeep Wrangler (2,4 L), the 2003 Acura MDX and the 2010 GMC Acadia. Click on the link above for more information about them.
Last year, the same magazine looked at 2010-2019 used vehicles that are known for oil overconsumption. Using their reliability studies and consumer opinion, they published a top 10 that contained three Subaru engines: the 2-litre four-cylinder boxer engine (2012-2017), the 2.5-litre boxer (2010-2018) and the 3.6-litre six-cylinder boxer (2010-2018); as well as three Volkswagen engines: the 1.4-litre turbocharged 4-cylinder (2016-2019), the 2.0-litre turbocharged four-cylinder (2010-2018) and the 3.0-litre supercharged V6 (2011-2019). Note that the last two are for the luxury brand Audi.
We can also mention BMW's 4.4-litre turbocharged V8 (2012-2019), GM's 2.4-litre four-cylinder (2011-2015) and Mini's 1.6-litre turbocharged four-cylinder (2010-2015).
Volkswagen/Audi
Speaking of Volkswagen and Audi, the Quebec magazine Protégez-vous, in collaboration with the Automobile Protection Association (APA), has reported important failures in some turbocharged engines with a 1.4 to 2.0-litre displacement caused by wastegate premature wear leading to engine malfunction. The vehicles concerned include the Volkswagen Jetta, the 2009-2014 New Beetle and GTI, the 2009-2016 Audi A3, A4 and Q5, as well as the 2015-2020 Volkswagen Golf, Jetta and GTI.
We must also underline Hyundai's and Kia's engine problems. Their 2.0 and 2.4-litre naturally aspirated engines, found in many models, have been the subject of several recalls and even replacements. Premature wear, knocking and oil leaks are among the problems. The automaker has also agreed to a settlement in a class action regarding its 2011-2019 Hyundai Sonata, 2013-2019 Santa Fe Sport and 2014, 2015 and 2019 Tucson.