Lamborghini Driver in York Busted for Going 170 Km/h in 60 Km/h Zone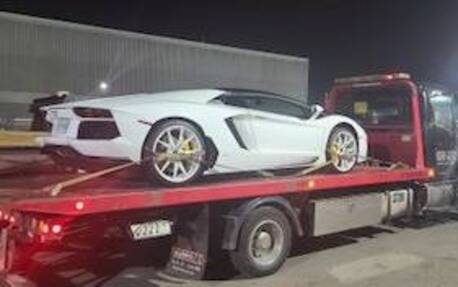 The Lamborghini Aventador is a heck of a supercar, but even the mightiest and fastest of them all must comply with speed limits when not on the track.
Earlier this month in the area of Highway 7 and Keele near Toronto, one reckless owner was caught going 170 km/h in a 60 km/h zone—almost triple the legal speed. This is as stupid as it gets.
The local York Regional Police shared the news via Twitter:
LAMBO BUSTED: Early this morning we clocked a $460,000 #Lamborghini #Aventador going 170 km/hr in a 60 km/hr zone in the area of Highway 7 and Keele.
And by now you know the drill: Driver charged with stunt. 30-day DL suspension. 14-day vehicle impound. pic.twitter.com/LBeagZr5Y6

— York Regional Police (@YRP) July 5, 2022
The Aventador was seized on the scene and sent to an impound lot for a period of 14 days. As for the driver, he obviously had his license suspended for 30 days and was charged with stunt driving.
Ontario defines stunt driving as speeding, street racing, contests, and engaging in other dangerous driving practices in a motor vehicle. Offenders face a fine that can range from $2,000 to $10,000 while also getting hit with a minimum of six demerit points.
"This incident occurred on the stretch of roadway with the highest number of collisions annually in our region," York Regional Police tweeted. "Speed can kill. So no, we never get tired of yanking stunt drivers off our roads."
Considering the seriousness of the offense, one could argue that the penalties are not harsh enough. As far as we're concerned, the driver should lose their license for at least a year. Other people on Twitter have suggested that fines should vary according to income. What do you think?
Almost one year ago, Lamborghini announced a limited edition of the Aventador called LP 780-4 Ultimae, available in coupe and roadster variants. It marked the final V12-powered Lamborghini without any kind of electrification. The naturally aspirated 6.5-litre engine got a boost to 770 horsepower—11 more than the Aventador SVJ.