Lamborghini Says Off-Road Ready Huracán Sterrato is a Go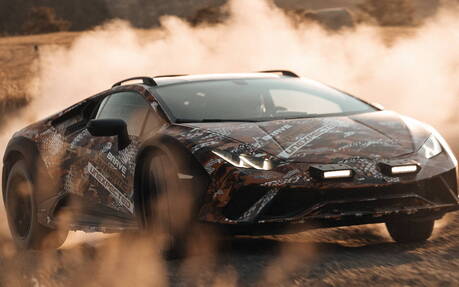 Lamborghini will soon go ahead with the production of its first off-road oriented vehicle. If you think it's some kind of variant of the Urus crossover, you're wrong.
Remember the Huracán Sterrato concept announced in June 2019? As it pushes the limit of its entry-level coupe, the Italian automaker will unveil a production-intent model by the end of this year.
Who exactly could want a Lamborghini Huracán for playing in the dirt, mud and sand, and do various acrobatics in the process? Maybe the same type of folks who are interested in all-terrain conversions of the Porsche 911 by Singer and Gemballa, but other than that, we're not sure. The company has released a short clip to tease what the Sterrato is capable of:
Okay, we admit it looks pretty exciting.
Essentially, the Huracán Sterrato features more rugged tires, flared fenders, a raised and beefed-up suspension, a couple of off-road lights up front and roof rails on top. We bet the naturally aspirated 5.2-litre V10 engine also gets a series of modifications. Alas, Lamborghini did not provide additional specs and details.
The 2019 concept was rated at 640 horsepower and announced with 47mm of extra ground clearance, 30mm wider tracks, plus special off-road calibration for the four-wheel drive system, four-wheel steering, suspension and torque vectoring.
Following the debut of the production model later in 2022, deliveries should begin in the first half of 2023. Lamborghini has yet to say how many units it plans to build.