The Lucid Air Shows its Darker Side With Stealth Look Package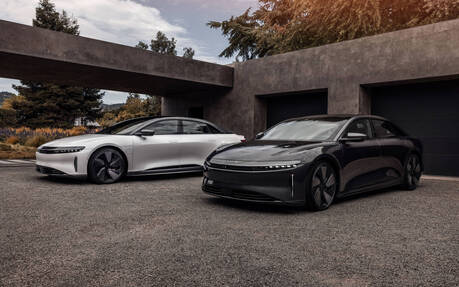 The Lucid Air electric sedan shows its darker side with the introduction of the new Stealth Look package, which will premiere at Monterey Car Week at Motorlux on Wednesday, August 17. It's essentially an optional exterior theme that projects a sportier, darker character – following the automotive trend that seems to be spreading across the industry.
It will be offered on the Grand Touring Performance, Grand Touring and Touring trims.
"From its inception, Lucid Air was designed for two distinct looks that reflect the duality of its personality: standard platinum Look, which highlights its luxurious nature; and now Stealth Look, which is simultaneously assertive, yet under the radar," said Derek Jenkins, Lucid Group senior vice president of design and brand.
Aesthetically, the Stealth Look changes 35 external components that set it apart from the platinum version. These include the mirror caps and the darker-finished roof surround. The finish around the headlights has also been darkened.
Several exterior components have a dark polished finish, reminiscent of the specular black polishing technique used in fine watchmaking and jewelry. These include the front nose blade, C-pillars, and the lower door and fairing trim.
In addition, the Stealth Look adds gloss black and satin graphite accents to enhance the sharp appearance. Finally, the package includes unique wheels (20 or 21 inches) with satin black inserts. The package can be paired with any exterior color (Star White, Finished Black, Cosmos Silver, Quantum Gray and Zenith Red). The Stealth Look will cost $7,500 and will be available in the first quarter of 2023.