Select Ford, Lincoln Vehicles to Gain Hands-Free Lane Changing
Ford has announced a series of upgrades to its BlueCruise (Ford) and ActiveGlide (Lincoln) semi-autonomous driving assistance systems including the possibility to perform hands-free lane changes.
The new version 1.2 of these systems will be available on select vehicles from the factory this fall, beginning with the Ford Mustang Mach-E electric crossover.
More specifically, the upgrades include:
Lane Change Assist—The system will perform a hands-free lane change when requested by the driver tapping the turn signal, and it can even suggest if a lane change would be beneficial when following slow-moving traffic.
Predictive Speed Assist—Speed is automatically and smoothly adjusted as drivers approach a sharp curve. The system will also help signal the driver ahead of time when a speed change is about to occur, so they understand why the vehicle is slowing.
In-Lane Repositioning—This feature will subtly shift the vehicle's position away from other vehicles in adjacent lanes, which can be especially helpful when next to bigger vehicles such as semis.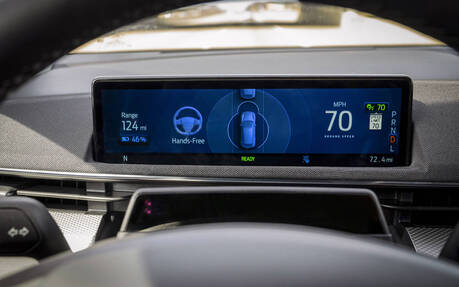 "These improvements are just the beginning of a constant journey toward improving safety and, in the future, giving customers valuable time back," said Doug Field, Chief EV & Digital Systems Officer, Ford Model e.
To this day, some 75,000 Ford and Lincoln customers have benefited from BlueCruise and ActiveGlide, covering more than 25 million kilometres without their hands on the steering wheel. The systems are compatible with over 210,000 kilometres of divided highways in North America.
Watch: 2021 Ford Mustang Mach-E Review