Ford's Blue Cruise Unveiled as Hands-Free Driving Assist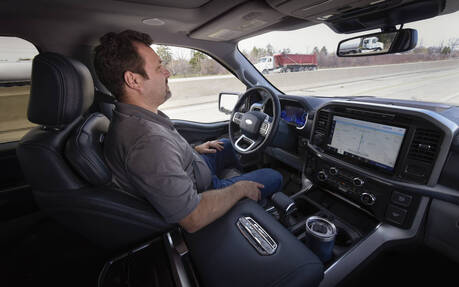 Automakers are developing driver-assist technologies that are so advanced you can basically let go of the steering wheel and relax while the car drives all by itself.
Of course, some of these systems are more sophisticated and capable than others, enabling varying degrees of hands-free driving on the highway.
Ford is now jumping on the bandwagon with its own technology called Blue Cruise, which will initially debut in the new F-150 and Mustang Mach-E as previously reported.
Future units will be compatible with the system right from the factory, while select models already on the road will be able to make the upgrade via OTA.
Like Cadillac's Super Cruise
Ford's Blue Cruise is quite similar to Cadillac's Super Cruise. When driving on a compatible highway (one that's mapped in the system), you can activate intelligent cruise control, which combines with active lane keeping assist to allow hands-free driving. The vehicle will maintain a preset speed and distance with the one in front of you and steer in accordance with lane markings.
An on-board camera monitors driver attention the entire time, so the system will keep working as long as you keep focusing on the road ahead. Said camera can detect eye movements even when wearing sunglasses or in low-light conditions, Ford explained.
Theoretically, you could drive from Toronto to Montreal without ever touching the steering wheel or pedals. The idea is to make long-distance trips as comfortable and relaxing as possible, which is terrific.
Blue Cruise doesn't mind inclement weather conditions, either, because it's designed to operate on mapped highways only. At the moment, Ford has compiled more than 160,000 kilometres of compatible highways.
Unlike Super Cruise in Cadillac vehicles, automatic lane changes are not possible for now. Also, Ford is unable to say if and when Blue Cruise will expand to include smaller roads and city streets.
How Much?
Existing owners of compatible Mustang Mach-E and F-150 models can pay $600 for an OTA update that will install Blue Cruise in their vehicle. The system will also be part of the Co-Pilot360 Active 2.0 package ($1,600) available with new orders.
Ford says these prices are for a three-year subscription complete with regular updates on roads and conditions.
Blue Cruise is set to roll out in Canada from fall 2021.