2023 Volkswagen ID.3: Tasting the Forbidden Fruit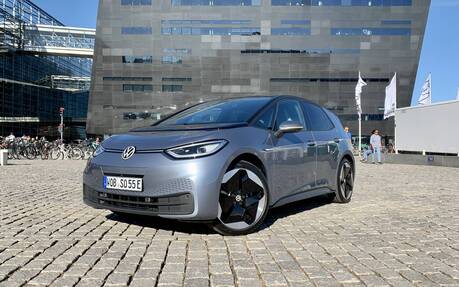 Before the Volkswagen ID.4, the German automaker kicked off its next generation of electric vehicles with the ID.3, a small hatchback that first debuted in concept form at the 2016 Paris Motor Show then launched across Europe in September of 2020. Unfortunately, there are no plans to bring it to North America at this time.
During a recent trip to Copenhagen to test drive the all-new Volkswagen ID. Buzz, we also had the opportunity to spend time behind the wheel of the forbidden fruit that is the ID.3. Below are our first impressions.
MEB Architecture
Unlike the old e-Golf, the new ID.3 is based on Volkswagen's dedicated MEB electric vehicle architecture. It might be its spiritual heir, but they're very different cars from a technical standpoint.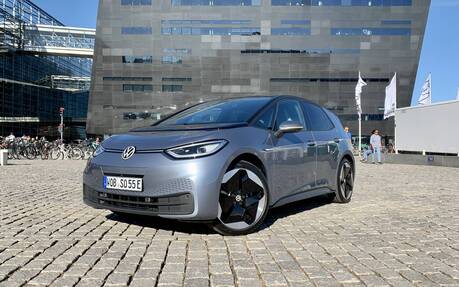 The ID.3 is also shorter, lower and lighter than the ID.4 crossover—in case that wasn't clear from the pictures—while the interior can accommodate four or five people depending on the model. You can put it in the same segment as the Chevrolet Bolt EV and Hyundai Kona Electric, except that it features a RWD setup instead of FWD.
Aesthetically, the ID.3 looks like a Golf from the future. We found the Lunar Grey exterior of our tester to be quite sharp, especially with the contrasting black roof, rear hatch and spoiler. But those wheels? Hum, not so much.
Inside, the front bucket seats provide superb comfort and the rear bench seat is spacious enough. The driver display is nearly identical to that of the ID.4. By the way, you can't put extra cargo under the hood since there's no front trunk.
Customers in France have a choice of 62kWh and 82kWh batteries. The latter is currently shared with our ID.4, while the former will be added to the lineup for 2023. In other select markets, an even smaller 55kWh battery is also available.
Volkswagen claims a maximum range of 424 km with the ID.3 Performance and 556 km with the Pro S model. These numbers are based on the WLTP test cycle, which as you might know is more optimistic than the one used on this side of the Atlantic. All ID.3 models generate 150 kW, or 201 horsepower. 
During our short test drive, we noted a few interesting details about the ID.3. Mainly, driving dynamics are very similar to those of the ID.4, although the hatchback proves a bit more nimble and responsive. Of course, it's not as hefty as its larger sibling. That makes it an excellent city car. Steering feedback is virtually inexistent, however.  
Staying in Europe
Speaking of city cars, the aforementioned Bolt EV and Kona Electric are similarly sized competitors that enjoy great success here in North America, more specifically in Quebec, B.C. and California. From what we understand, Volkswagen doesn't see a strong enough business case to offer the ID.3 on our shores, where SUVs and crossovers like the ID.4 are much more popular among consumers.
The thing you have to know is that the ID.3 is not a cheap hatchback, starting at 44,990 euros in France. The ID.4 is actually more affordable over there (43,000 euros), while the eighth-gen Golf retails from 30,685 euros. It would be nearly impossible for Volkswagen to offer the ID.3 in Canada at a more attractive price than the ID.4, and only a tiny number of people would buy one.
Volkswagen is leaving the door open for when the second-generation ID.3 arrives, but don't get your hopes up too much. The automaker is busy right now with the start of ID.4 production in Tennessee as well as the launch of the new ID. Buzz van and ID. Aero sedan in 2024.
Watch: Volkswagen ID. Buzz Makes Global Debut
Test drive report
Test model

N/A

Trim level
N/A
Price range
N/A
Price as tested
N/A
Warranty (basic)
N/A
Warranty (powertrain)
N/A
Fuel economy (city/highway/observed)
N/A
Options
N/A
Competitive models
2022 Tesla Model 3, 2022 Chevrolet Bolt EUV, 2022 Chevrolet Bolt EV
Strong points

Good-looking and nicely sized
Agile handling
Interesting range

Weak points

Not coming to Canada
High price
RWD only

Editor's rating
Fuel economy
N/A Our test drive was too short to properly evaluate energy consumption.
Comfort
The long wheelbase creates a spacious and comfortable interior. The large wheels affect ride quality.
Performance
The ID.3 is a pretty decent performer.
Infotainment
We found the infotainment system to be rather slow.
Driving
Zippy and nimble, the ID.3 is fun to drive.
Overall
We loved the ID.3, but it wouldn't be a great seller here due to its size and small price gap with the ID.4.