Next-Gen Mitsubishi RVR Revealed as Renault Captur Clone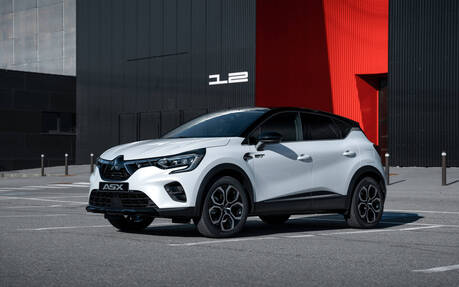 Mitsubishi today revealed the second-generation ASX, also known as RVR in Canada and Outlander Sport in the U.S. The first one debuted more than a decade ago as a 2011 model, so a full redesign was long overdue.
As it turns out, we can't talk about a redesign. That's because the small Japanese automaker turned to its Alliance partner Renault to save on development costs and simply offer a rebadged version of the Renault Captur.
The only real difference with the French subcompact crossover, at least on the outside, is the three-diamond logo affixed to a new grille that supposedly offers a unique take on Mitsubishi's "Dynamic Shield" front end. We'll let you be the judge of that. In the rear, the Renault emblem is gone, exposing the back-up camera in the process.
Everything else, from the fancy headlights/DRL combo to the hook-shaped taillights and everything in between, including the flower-style wheel design and black roof, is identical to the Captur.
Inside, guess what? It's more of the same, except for the Mitsubishi badge on the steering wheel. Of course, the digital instrument cluster and driver-oriented, portrait-style centre touchscreen mark a refreshing evolution from the outgoing RVR.
We'll have to wait for an announcement by Mitsubishi Canada to see what the future holds for our RVR. Some sources say it will simply be axed in a year or two, and the Eclipse Cross will become the brand's new entry-level crossover. 
Watch this space for more details.