Report Shows Toyota, Honda Are Losing Customers to EV Rivals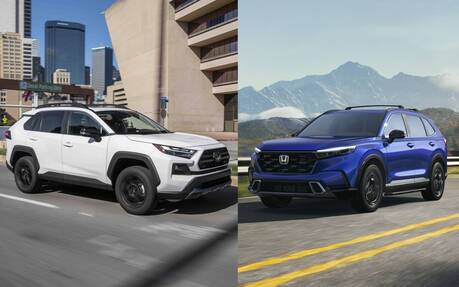 A new report by S&P Global Mobility shows that consumers moving to electric vehicles in 2022 are largely doing so from Toyota and Honda due to a lack of such options in their respective portfolios.
After spending years on improving fuel economy in ICE-powered vehicles, with or without hybrid technology, the two Japanese automakers now have a lot of ground to make up in the EV race. Toyota has only just begun deliveries of the bZ4X, while Honda's Prologue is expected to launch in 2024 at the earliest.
When looking at the EV leaders in North America including the Tesla Model 3 and Model Y, Chevrolet Bolt EV, Ford Mustang Mach-E and Hyundai IONIQ 5, the top conquests are Toyota and Honda owners.
S&P Global Mobility notes that Tesla retains a significant lead (Ford is No.2 in the U.S., but its EV sales represent only 8 percent of Tesla's total) and its Model Y has nearly 74 percent of buyers come from outside the brand—tops in the industry.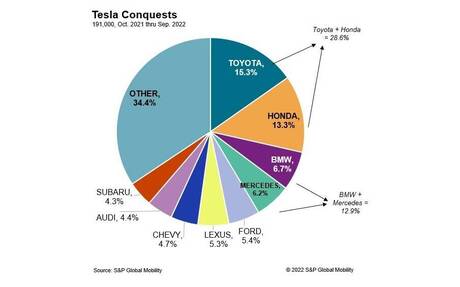 More specifically, the top five Model Y conquests are the Lexus RX, Honda CR-V, Toyota RAV4, Honda Odyssey and Honda Accord, in that order. As for the Model 3 sedan, the top five conquests are the Honda Civic, Honda Accord, Toyota Camry, Toyota RAV4 and Honda CR-V.
What about the Ford Mustang Mach-E? According to S&P Global Mobility data, the Mustang-based electric crossover has mostly conquered Toyota RAV4 and Honda CR-V customers. Ditto for the Chevrolet Bolt EV (you can also add the Toyota Prius to the list) and the Hyundai IONIQ 5.
Of course, the high conquest rates from Toyota and Honda come from the historical sales success of those models overall. The RAV4 and CR-V are two of the 10 best-selling vehicles in the country, remember. When it comes to popular pickups such as the Ford F-150 and Chevrolet Silverado, owners are less likely to trade for an EV and more likely to add one as a second vehicle in their driveway.
The S&P Global Mobility report predicts the number of EV nameplates will grow from 48 at present to 159 by the end of 2025. Time will tell whether Toyota and Honda manage to win back most of the customers they're currently losing.