2024 Mercedes-AMG C 63 S E Performance: 671 Horsepower, No V8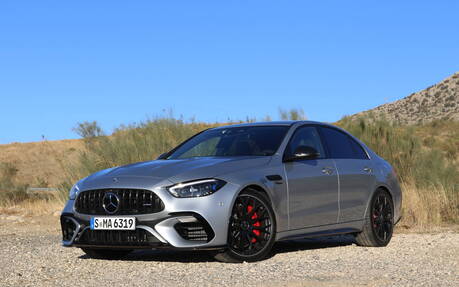 Earlier this month, The Car Guide flew to Málaga, Spain to get a first crack at the upcoming 2024 Mercedes-AMG C 63 S E Performance, a mouthful of a car that marks a technological revolution for the German compact sedan. For the first time, the top-line AMG model features a plug-in hybrid powertrain.
Forget the big old twin-turbo V8. Instead, the ultimate C-Class now uses only half of that. Under the hood is a single-turbo 2.0-litre four-cylinder engine that produces an unprecedented 469 horsepower and 402 lb-ft. of torque. F1-derived electric assist adds a unique twist to keep engine revs in a sweet spot at all times.
You see, conventional turbochargers rely on exhaust gases to operate. When the turbine spins fast enough, it sends compressed air into the engine. With the AMG C 63 S E Performance, a small 48V electric motor drives the turbine anytime exhaust gases are not sufficient, effectively eliminating the dreaded turbo lag.
In an effort to improve weight distribution, engineers mounted the electric motor and 6.1kWh battery in the rear. A nine-speed transmission is mated to the turbo-four, while a two-speed transmission pairs with the motor.
671 Horsepower
With all these additions (and others we haven't mentioned yet), the car tips the scales at a ridiculous 2,111 kg. On the other hand, it generates a total of 561 horsepower—or up to 671 horsepower for 10 seconds when Overboost is activated—and 752 lb-ft. of torque. Let that sink in for a minute.
The setup is even more sophisticated than you might think. A driveshaft connects the engine and motor, and depending on available grip, drive mode selection and throttle position, the AMG C 63 S E Performance can switch from pure rear-wheel drive to 50/50 all-wheel drive regardless of where power comes from.
An electronically controlled limited-slip differential, adaptive suspension, four-wheel steering and as many as eight different drive modes (including a full EV mode) further elevate performance and the overall driving experience. We found out for ourselves while pushing the car on the winding roads of Andalusia as well as Circuito Ascari.
Spark Turns Into Lightning
We began our test drive in the streets of Málaga, using exclusively the EV mode. With a battery capacity of 6.1kWh, maximum range is estimated at 13 km based on Europe's WLTP cycle. It's precisely the distance we covered on that particular day, with temperatures hovering around 18° C.
Once we got out of town, the combustion engine kicked in and we switched to Comfort mode resulting in a smooth ride. The C 63 S E Performance proved at ease on the highway, quietly coasting in the left lane. Average fuel consumption in these conditions was 6.9 L/100 km, which is pretty darn good for a car that packs nearly 700 ponies and weighs more than two tons. Despite the 20-inch wheels and low-profile tires (265/35 front, 275/35 rear), road noise was nicely kept to a minimum. Repeated checks at the speedometer were a must to avoid going over the limit. And get this: we didn't even exceed 20 percent of the gas pedal's stroke the entire time.
Leaving the highway for some spirited action on the twisty ribbons of pavement nearby, we activated Sport+ mode and manual shifting. The four-door pocket rocket felt remarkably lighter than it actually is thanks to four-wheel steering that improves agility in tight corners. The suspension also got stiffer, which we didn't mind since the roads were as slick as they come. It will be quite another story in Canada, where the wise thing to do will probably be to opt for Individual mode, combining a sportier powertrain setting with a softer suspension setting.
The brakes could use a bit more bite, but they certainly have ample power to stop the small yet heavy sedan. Even after repeated hard braking manoeuvres, they didn't show any sign of fading.
As for performance, you cannot realistically push the throttle past the halfway point of its stroke on public roads. There is so much power and torque here that everything can feel like a blur anytime you sprint in a straight line. The electrified four-cylinder engine is not as violent as the old V8, but make no mistake: it's still a very dangerous game on mountain roads. As you can imagine, we erred on the side of caution until the moment we arrived at Circuito Ascari, where we could finally unleash every single one of the 671 horses in a safe environment.
A Monster on the Track
The Spanish track is quite simply a paradise for any driving enthusiast. Pristine tarmac, a wide variety of corners and a long straightaway made for an ideal venue to evaluate AMG's latest star.
With Race mode turned on, Overboost becomes available, but only on select tracks as determined by Mercedes-Benz. At Ascari, we seized every opportunity to use it to save time between corners. No need to press a button—just floor the throttle and you'll enjoy maximum power.
The C 63 S E Performance continued to amaze when pushed at full speed. While the car's weight is more noticeable on the track than on the road, it never proved to be a problem on our watch. The extreme delivery of power and torque combined with the quick-revving nature of the electrically assisted engine requires special attention when shifting, otherwise the rev limiter will catch you off-guard especially between second and fourth gear.
Getting to 200 km/h can be done in an alarmingly short amount of time. All the while, sound effects are artificially created and produced through the speakers. As hard as they've tried, though, engineers couldn't replicate the furious growl of the twin-turbo V8 in the previous AMG C 63, which admittedly left us a bit disappointed.
Four-wheel steering is definitely a key asset in corners, and the car showed outstanding stability around apexes, but patience is required when going out of a high-speed corner. Press the go-pedal too soon, and significant understeer will ensue. Braking proved commendable overall, though once again a bit more bite would have been appreciated. Also, that fade-free performance we observed on the road kind of diminished after several minutes of lapping. Of course, that won't be an issue for the vast majority of Canadian drivers who never set foot on a track.
Our Verdict
Ultimately, the 2024 Mercedes-AMG C 63 S E Performance is a sharp and super-sporty sedan that still manages to be compliant and easygoing in normal driving conditions—provided the pavement is in great shape. The interior is nicely finished and mostly driver-friendly, although the multiple menus and functions demand some getting used to.
One issue we have to insist on is the small trunk opening that makes large items pretty hard to squeeze in. Oh, and speaking of which, the high-voltage battery affects cargo capacity, too.
Will drivers on this side of the Atlantic mind the switch from eight to four cylinders? V8 purists might still rave about the level of performance, but at the same time they might not be impressed with the feel and sound. We'll have to wait and see. Another question left unanswered for now is long-term reliability. With so many components and such complex technology, failures are bound to happen. And what about maintenance costs?
Mercedes-Benz Canada has yet to announce pricing details, but it's safe to assume the new AMG C 63 S E Performance will start at around $100,000 when it goes on sale in the second half of next year as a 2024 model. For those seeking a more exclusive package, a special F1 Edition limited to just 36 units is also coming.
Watch: 2023 Mercedes-AMG C 43 4MATIC Review
Test drive report
Test model

N/A

Trim level
N/A
Price range
N/A
Price as tested
N/A
Warranty (basic)
N/A
Warranty (powertrain)
N/A
Fuel economy (city/highway/observed)
N/A
Options
N/A
Competitive models
2023 BMW 3 Series M3 Competition xDrive, 2023 Alfa Romeo Giulia Quadrifoglio
Strong points

Exhilarating performance
Sharp handling
Sporty interior
Reasonably efficient in normal driving

Weak points

Small trunk
Heavy weight
Stiff ride

Editor's rating
Fuel economy
We recorded an average of 6.9 L/100 km in normal highway driving.
Comfort
The ride is kind of stiff and becomes really harsh when you select the sportier drive modes.
Performance
With nearly 700 hp and phenomenal torque, performance is explosive.
Infotainment
The graphics are super-sharp, but the multiple menus and functions demand some getting used to.
Driving
The car is agile and fun to drive, but you can only access a fraction of its tremendous potential on public roads.
Overall
Highly capable and nicely appointed, the C 63 S E Performance is a true sports sedan despite carrying so much extra weight. Pricing and long-term reliability remain TBD.