2022 Volvo S90 Recharge: Adorable Swedish Limo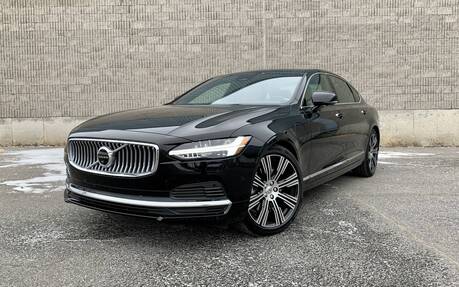 Not long after the introduction of the S90, Volvo had to revise its marketing plans. Production moved from Sweden to China, where large sedans are quite popular, and the decision was made to go forward with only the long-wheelbase variant, which virtually makes this car a fully-size model.
The S90 is by far Volvo's lowest-selling vehicle in Canada right now, but of course that didn't stop us from putting one to the test during the holiday season, with a plug-in hybrid powertrain in the mix. How good is the 2022 Volvo S90 Recharge? Find out below.
Fabulous Yet Complicated Powertrain
As a niche product, the Volvo S90 offers limited model selection including Inscription and Inscription Recharge. The latter boasts a fabulous yet complicated powertrain. It starts with a 2.0-litre four-cylinder engine that is both turbocharged and supercharged. Next, a rear-mounted 65kW electric motor is paired with the engine along with an 11.6kWh battery to create a plug-in hybrid marvel of engineering and technology (which Volvo refers to as T8).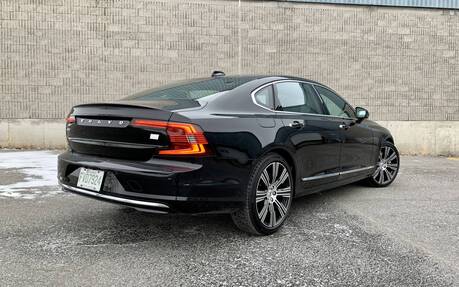 Total system output is rated at 400 horsepower and 472 pound-feet of torque, which is transferred to all four wheels and ample enough to ensure the S90 Recharge never runs out of steam. Acceleration is seriously impressive, with the electric motor delivering instant performance. We dare anyone to step inside this car and not be stunned by the fact that the displacement is no larger than a carton of milk. Volvo's expertise beautifully comes alive with this powertrain.
The eight-speed transmission proves a decent operator most of the time, but we must warn you that the gear selector requires some getting used to. How so? Well, you essentially have to do a double action to go from P to D or from D to R.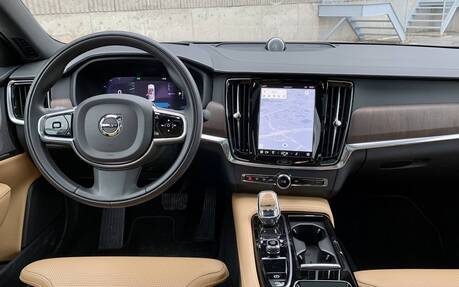 As a PHEV, the 2022 S90 Recharge is able to cover up to 34 km on pure battery power. During our 880km road trip, we stopped for charging on three occasions, which resulted in combined fuel consumption of 7.2 L/100 km. This is fantastic for such a large and powerful sedan. Drivers doing short commutes on a regular basis can achieve an even better score, obviously. For the record, Natural Resources Canada rates the 2022 S90 Recharge at 7.9 L/100 km in hybrid mode. As you can imagine, premium gasoline (91 octane) is recommended.
Note: For 2023, the electric motor's output is bumped to 107 kW, resulting in a combined 455 horsepower. Peak torque is increased to 523 pound-feet. The battery grows in size, too, going from 11.6 kWh to 18.8 kWh. This significantly boosts zero-emission range, to 61 km.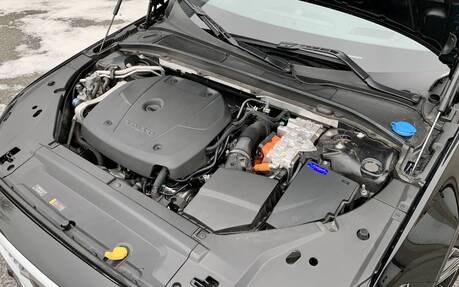 Exceptional Tourer
The 2022 Volvo S90 Recharge has no sporty aspirations like those German sedans it competes with. It's a limo-like tourer that proves quiet, spacious and infinitely comfortable. The driving position is terrific, and there's a surprising amount of room in the rear. While the trunk is huge, you can't fold the rear seats to improve cargo capacity, which makes it impossible to fit long items. The built-in pass-through does accommodate two pairs of skis, mind you.
Styling is classy and generally conservative. The Volvo S90 has a majestic presence and the long wheelbase doesn't compromise its proportions. Fit and finish is great, as well. It's a good thing Volvo offers a 4-year/80,000km warranty, though, because reliability is a serious concern with this car. Also, maintenance costs can be fairly high.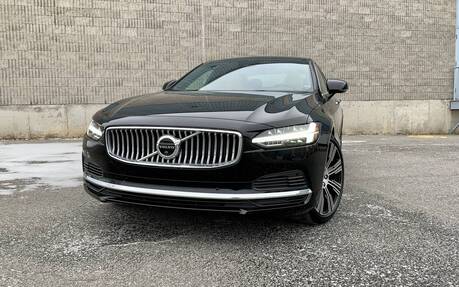 A Steal
While the Volvo S90 is theoretically a midsize luxury car, you can definitely make a case for it as a full-size model due to the long wheelbase. Pricing starts at $70,100 (plus freight and PDI) in base trim. You'll need to spend $78,250 for the Recharge model. Add another $5,850 for the Ultimate package, which includes an excellent Harman Kardon audio system, ventilated front seats and head-up display. Simple math will tell you that's much cheaper than a Mercedes-Benz S-Class ($129,100), BMW 7 Series ($147,000) or even the new Genesis G90 ($115,150).
How long does Volvo plan to keep the S90 around in North America? Good question. Too few units are sold annually not to pull the plug at some point. But just because it's not popular doesn't mean you shouldn't consider it along with the much more expensive German competitors. The S90 has plenty of great attributes. That being said, while we love the driving experience and powertrain, we'd personally opt for the more versatile V90 Cross Country instead, even if it can't be had in plug-in hybrid configuration.
Test drive report
Test model

2022 Volvo S90

Trim level
Inscription Recharge
Price range
$70,100 – $78,250
Price as tested
78 250 $
Warranty (basic)
4 years/80,000 km
Warranty (powertrain)
4 years/80,000 km
Fuel economy (city/highway/observed)
8,3 / 7,5 / 7,2 L/100km
Options
N/A
Competitive models
2023 Jaguar XF, 2023 Maserati Ghibli, 2023 Mercedes-Benz E-Class, 2023 Genesis G80, 2023 BMW 5 Series, 2023 Audi A6
Strong points

Impressive PHEV tech
Pleasant EV range (even more so for 2023)
Remarkable comfort levels
Surprisingly spacious rear seats

Weak points

Not quite a midsize or full-size car
Serious reliability concerns
High maintenance costs

Editor's rating
Fuel economy
Hard to ask for more efficiency from such a large and powerful sedan.
Comfort
The S90 has a limo-like feel.
Performance
With 400 hp on tap, the S90 Recharge is impressively spirited.
Infotainment
The multimedia system is good but not great.
Driving
Beautiful ride quality combines with brisk acceleration and a solid chassis.
Overall
The S90 has plenty of great attributes, yet most potential buyers ignore it. It's kind of stuck between two segments and comes with high maintenance costs.