The Car Guide Podcast: 2023 Porsche Macan T and 2023 Volvo C40 Test Drives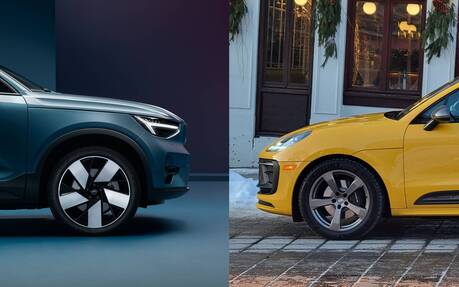 Louis-Philippe Dubé and Gabriel Gélinas share their driving impressions on the 2023 Porsche Macan T and 2023 Volvo C40 Recharge on the latest episode of The Car Guide Podcast.
The Porsche Macan T slots between the base Macan and the Macan S. And this is the first time a "T" badge is slapped on a Porsche SUV. The Macan T gets some of the best components from the competition-inspired GTS version, like the Sport Chrono package and the sport seating, but is powered by the base four-cylinder, 2.0-litre turbocharged unit (in lieu of the 2.9-litre V6 turbocharged mill). It dishes out 280 horsepower and 295 lb-ft of torque to all four wheels.
What's special about the unit LP tested is that it was spec'd by himself back in July, as per requested by Porsche Canada. LP underlines that every piece of optional equipment on this Macan T was chosen to keep the weight (and price) down, while keeping the driving dynamics-critical components, like Porsche Adaptive Suspension System and the Porsche Torque Vectoring Plus system, among others.
LP points out the Macan's particularly versatile character, with plenty of character and amazing handling capabilities despite the fact that the accelerations could be a bit more potent. That's in Normal mode. But twist the knob to Sport or Sport Plus modes to iron out this wrinkle. According to LP, the Macan T will cater to the needs of Porsche fans who want (or need) a hardcore compact SUV. But there are choices out there with more value and power for less, like the Genesis GV70. However, the Genesis and other rivals don't come near the Macan T in terms of chassis dynamics. 
For his part, Gab drove the all-electric Volvo C40 Recharge during the holidays. He finds it quick and efficient during city driving, like most electric vehicles. Gab underlines that coupe-like silhouette of the C40 Recharge penalizes the cargo volume in the back and its single mode, on/off regenerative braking system could become a problem during the winter when activated.
Listen to LP and Gab's full impressions on The Car Guide Podcast EP6
Listen to the full episode here