2024 Polestar 2 Delivers Increased Performance, Range, Charging Power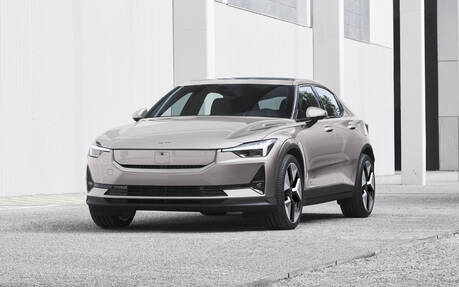 Polestar's 2024 model lineup will be headlined by the all-new Polestar 3 crossover, but you shouldn't sleep on the Polestar 2 sedan.
Following a key over-the-air update introduced late last year (which contributed to sales topping 100,000 units since the model's launch in 2019), the Tesla Model 3 fighter is now getting a mid-cycle refresh that is so much more than skin deep.
Of course, you'll immediately notice that the front grille is closed. Like on the Polestar 3, the so-called SmartZone hosts some of the vehicle's most important active safety features, including the front-facing camera and mid-range radar. Meanwhile, the 20-inch forged alloy wheels in the Performance Pack have been updated to align the Polestar 2 in its sportiest expression with those of the new crossover. In addition, Michelin all-season tires are now available for the standard 19-inch wheels.
New Motors and RWD
More importantly, the 2024 Polestar 2 gets next-generation electric motors and inverters. The single-motor variant is now rear-wheel driven, powered by a newly developed permanent magnet motor and silicon carbide inverter. The new motor has a power output of 220 kW/295 hp (increased from 170 kW/228 hp) and peak torque of 361 lb-ft. (up from 243 lb-ft.). The 0-100 km/h sprint time has been cut from 7.4 seconds to 6.2 seconds. Look for an even more playful and agile car, says Joakim Rydholm, Head of Chassis Development at Polestar.
The dual-motor variant now has a RWD bias that increases driving pleasure and performance thanks to a completely re-balanced drivetrain setup and torque ratio. The new rear motor is the primary drive source, supported on the front axle by a new asynchronous motor. This enables higher total system output of 310 kW/416 hp and 546 lb-ft. of torque (increased from the original 300 kW/402 hp and 487 lb-ft), resulting in 0-100 km/h sprints in 4.5 seconds (previously 4.8 seconds). Supporting efficiency gains, the front motor can now be disengaged completely when not needed.
Curiously, Polestar says the optional Performance Pack increases output to 335 kW/449 hp, but last time we checked it used to be 350 kW/469 hp. If you're in a rush, this Polestar 2 will take you to triple-digit speeds in 4.2 seconds.
Increased Range, Quicker Charging
The upgraded 2024 Polestar 2 boasts range improvements for both versions due to the optimization of power delivery from the more powerful motors. The front motor disconnect function on the dual-motor variant is particularly effective at maximizing range, which is now up to an estimated 435 km (previously 418 km). The exact rating will be announced later. The 78kWh battery can extract up to 155 kW from a DC fast charger.
The single-motor model benefits from a new, larger battery of 82 kWh and is now capable of up to 483 km (increased from 435 km). Maximum fast charging speed for this version is now 205 kW.
A few more words to talk about equipment. The dual-motor Polestar 2 now includes the Pilot Pack as standard. The Pilot Pack features Blind Spot Information System with steering support, Cross Traffic Alert with brake support, Rear Collision Warning Mitigation system, Adaptive Cruise Control, 360-degree camera, Pilot Assist, auto-dimming door mirrors and LED front fog lights with cornering assist.
When optioned with the Performance Pack, the Plus Pack is now automatically included as well. Included in the Performance Pack are Brembo brakes, exclusive 20-inch forged alloy wheels, Öhlins dampers, the Polestar Engineered performance software upgrade and signature gold seat belts.
Pricing details for the 2024 Polestar 2 will be shared closer to the car's launch later this year.