Hear Dodge's Updated Electric Muscle Car Sound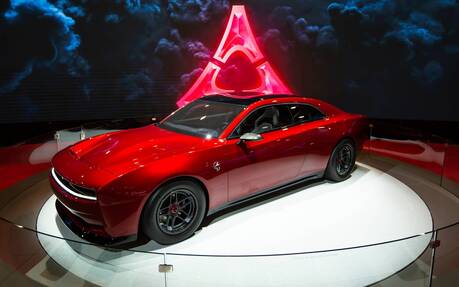 Dodge has come up with an updated version of the fake exhaust sound for its electric muscle car that will go into production next year.
The Charger Daytona SRT concept, first shown in August 2022, introduced a so-called Fratzonic sound system that can reproduce a 126-decibel exhaust note, comparable to that of a Hellcat V8.
Most Dodge enthusiasts were not entirely convinced upon hearing it, so the company used the SEMA Show in Las Vegas last November to display the car once again and get more feedback.
Here's what it sounds like now:
Okay, so the driver in the video is nowhere close to revving the motors at full speed, but you get the idea.
"We have changed the sound of that car 1,000 times and we will continue to," Dodge CEO Tim Kuniskis said right after the initial debut of the Charger Daytona SRT, per Car and Driver.
What do you think? Does that sound like a gasoline-burning V8 to you, or least close enough? One thing's for sure, we can't wait to hear it in person.
Up to 670 Horsepower… and More
When it comes to power, Dodge is talking about nine possibilities. When equipped with the 400V electrical system, the base motor delivers 340 kW (456 hp), but it can be boosted to 370 kW (496 hp) with the eStage 1 upgrade or 400 kW (536 hp) with the eStage 2 upgrade. The optional motor starts with 440 kW (590 hp) then climbs to 470 kW (630 hp) with the eStage 1 upgrade or 500 kW (670 hp) with the eStage 2 upgrade. A special key plugs into the dash to unlock the extra power.
But that's not all. Dodge has also planned an 800V architecture called Banshee with three output levels available. However, we have yet to find out what they are. To be clear, all of the specs listed above might change between now and the launch of the production model. We'll keep you posted.