Dodge Charger Daytona SRT EV Concept Dresses Up for SEMA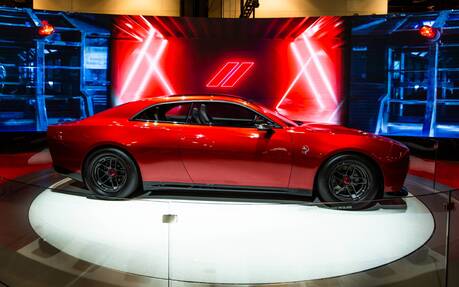 Dodge is coming to the SEMA Show in Las Vegas this week not only to display six "Last Call" 2023 Dodge Charger and Challenger special-edition models, but also to announce a new Hurricane crate engine as well as an evolution of the fully electric Charger Daytona SRT concept unveiled back in August.
The latter now sports an eye-catching, tri-coat Stryker Red paint which, in our opinion, is much more in line with the brand. There are new 18-inch Direct Connection lightweight carbon-fibre concept wheels with 305mm drag radials, too.
See those "Stage 2" badges on the fenders? When Dodge launches its first electric muscle car in 2024, customers will not only have multiple colours and wheel designs to choose from, but also various powertrain output levels.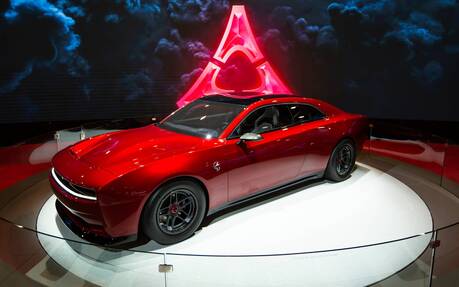 With the concept shown at SEMA, Dodge is talking about nine possibilities. When equipped with the 400V electrical system, the base motor delivers 340 kW (456 hp), but it can be boosted to 370 kW (496 hp) with the eStage 1 upgrade or 400 kW (536 hp) with the eStage 2 upgrade. The optional motor starts with 440 kW (590 hp) then climbs to 470 kW (630 hp) with the eStage 1 upgrade or 500 kW (670 hp) with the eStage 2 upgrade. A special key plugs into the dash to unlock the extra power.
As announced in the summer, Dodge has also planned an 800V architecture called Banshee. Once again, there are three output levels available, but these remain a secret for now. To be clear, all of the specs listed above might change between now and the launch of the production model.
And remember the unique Fratzonic exhaust system designed to give the Charger Daytona SRT a loud and menacing sound that will please performance and big-engine enthusiasts? Select SEMA attendees will be given an opportunity to evaluate and rank unique tuning versions of the exhaust note. Their feedback will help Dodge engineers create a one-of-a-kind sound signature that should be just as exciting as the car's acceleration.