2023 Mitsubishi Outlander PHEV: 10 Things We Like or Dislike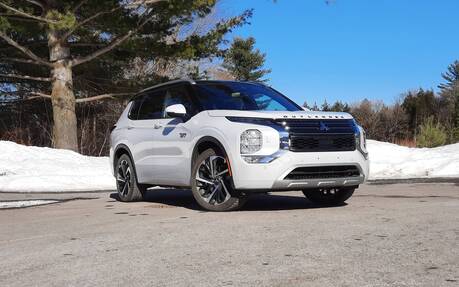 The Mitsubishi Outlander PHEV is all-new for 2023 and proves to be a smart choice for crossover shoppers looking to save money at the pump—provided they make the most of that increased EV range.
The Car Guide's Antoine Joubert and Germain Goyer have both shared their first impressions already. Following a full weeklong test drive with the family—and plenty of cargo and ski equipment—here are 10 things we like or dislike about this vehicle.
We Like: Interior Refinement
Let's face it, the front end of the 2023 Mitsubishi Outlander PHEV is a botched job. However, the interior is seriously impressive. Our top-line GT Premium tester featured perforated and diamond-stitched semi-aniline leather, beautiful burnt orange trim on the dashboard and armrests, aluminum finish on the centre console, ambient lighting and a panoramic roof on top of that.
Visibility and ergonomics are commendable, as well. The cabin is quieter than before, although a few rattles and creaking noises marred our experience.
We Dislike: Infotainment and Bugs
The 12.3-inch digital instrument panel in front of the steering wheel is both attractive and full of information. On the flip side, the 9-inch centre touchscreen can be hard to read on a bright sunny day. And while the infotainment system that powers it (shared with the Nissan Rogue) offers a configurable home screen, it's pretty boring to look at and use. At least there are physical knobs on each side and shortcut buttons underneath to make it more driver-friendly.
Similar to the conventionally powered Outlander, manipulating the mouse-type gear selector isn't very intuitive. What's more, we experienced problems with the electronic looking doors on a couple of occasions, forcing us to resort to the physical key to regain access to the cabin.
We Like: Significantly Increased EV Range
The biggest improvement when it comes to the 2023 Outlander PHEV is the larger high-voltage battery. With a capacity of 20 kWh instead of 13.8 kWh, it increases zero-emission range from 39 km to 61 km according to Natural Resources Canada. In our various tests, which were conducted at temperatures ranging from -10 degrees to 5 degrees Celsius, we were able to travel up to 65 km—without using cabin heating, of course. No other plug-in hybrid SUV can do better except for the Toyota RAV4 Prime (68 km officially).
By the way, unlike every competitor, the Outlander PHEV can plug into DC fast chargers (with a CHAdeMO connector). Mitsubishi says the battery will charge from 10-80 percent in 38 minutes. As for level 2 (240V) AC charging using a J1772 connector, a full charge requires about 6.5 hours.
We Dislike: One-Pedal Driving
For 2023, Mitsubishi took a page from fully electric vehicles by introducing one-pedal driving technology. It means the Outlander PHEV can come to a stop simply by releasing the gas pedal and letting the regenerative braking system do the work. Sounds great? Not so much. You need to go easy when lifting your right foot, especially at lower speeds.
We think most drivers will find the system not smooth enough to use it on a regular basis.
We Dislike: More Powerful Motors
The two electric motors in the Outlander PHEV are more powerful than before. The front motor is up from 60 kW to 85 kW (80 hp to 114 hp), while the rear motor's output is increased from 70 kW to 100 kW (94 hp to 134 hp). They are governed by an excellent S-AWC all-wheel drive system that Mitsubishi has perfected for this new generation.
The thing you have to know is that the Outlander PHEV operates mainly with the power of its electric motors. The gasoline engine is first and foremost a generator for the battery. That being said, you can control the flow of energy by switching between Normal (hybrid), EV (fully electric), Save (to preserve the battery) or Charge (to charge the battery while driving). Mitsubishi says the motors achieve a combined 32.1 kWh/100 km, but they were more efficient than that on our watch at 26.3 kWh/100 km.
We Dislike: Loud and Thirsty Engine
The company has included a Power mode (one of seven drive modes available with the Outlander PHEV) that delivers the best possible acceleration by combining the two power sources. It proves useful for quick passing manoeuvres or when going up relatively steep inclines.
The 131-horsepower gasoline engine can be pretty loud when pushed, however. And with an empty battery, average fuel consumption is a claimed and validated 9 L/100 km, which is at least 2 L/100 km worse than most rivals including even midsize models like the Hyundai Santa Fe PHEV and Kia Sorento PHEV.
We Like: Bigger Incentives
Starting at $46,538, the 2023 Mitsubishi Outlander PHEV is available in five trim levels (ES, LE, SEL, GT and GT Premium), all of which are eligible to a $5,000 rebate from the federal government since EV range tops 50 km. It used to be just $2,500 with the previous generation.
Provincial incentives have increased, too. In Quebec, for instance, Outlander PHEV customers now receive $5,000 instead of $2,500 since battery capacity exceeds 15 kWh. In B.C., the rebate is up to $2,000 depending on income. At minimum, total incentives cut in half the approximately $14,000 price gap between regular Outlanders and their PHEV equivalents.
We Dislike: Third Row
Unlike its five-seat predecessor, the new 2023 Mitsubishi Outlander PHEV comes standard with a third row and accommodates up to seven passengers. At least that's the idea. The reality is that the rear seats are a cruel joke at best—more like torture for just about anyone, even kids. In order to get decent legroom, you have to slide the second-row seats forward enough that they in turn become insufferable.  
It's a good thing the third-row seats fold completely flat into the floor and the second row has a 40/20/40 split (great for loading skis without compromising comfort), but if you need six or seven seats, we strongly recommend you to shop elsewhere.
We Like: Smooth Ride
The latest-generation Outlander is built on the same chassis as the Nissan Rogue. The gas and PHEV variants both emphasize ride quality and stability with a MacPherson strut front suspension and multi-link rear suspension. While larger wheels typically produce a stiffer ride, the 20-inch alloys on the higher-end GT models are definitely not that bad.
We Dislike: Disappointing Agility
The seats are nicely designed and comfortable on long trips, especially with the available massage function. They also have adequate side bolsters, which we appreciated during sharp cornering manoeuvres and quick S-turns. With the electric motors, larger battery and extra row of seats, the not-so-compact Outlander PHEV now weighs more than 2,000 kg, and you can certainly feel it. This SUV handles more like a midsize model.
Test drive report
Test model

2023 Mitsubishi Outlander

Trim level
PHEV GT Premium S-AWC
Price range
$32,698 – $57,048
Price as tested
CA$57,048
Warranty (basic)
5 years/100,000 km
Warranty (powertrain)
10 years/160,000 km
Fuel economy (city/highway/observed)
9.2 / 8.7 / 9.0 L/100km
Options
N/A
Competitive models
2023 Toyota RAV4, 2023 Kia Sportage PHEV SX, 2023 Kia Sorento PHEV SX, 2023 Hyundai Tucson Ultimate PHEV AWD, 2023 Hyundai Santa Fe Luxury PHEV, 2023 Ford Escape Plug-in Hybrid
Strong points

Much longer EV range
Bigger incentives
Comfort and refinement
Excellent warranty

Weak points

Botched nose job
Fuel consumption is higher than rivals
Agility is lacking
Forget the third row!

Editor's rating
Fuel economy
The 61 km of EV range are great. Fuel consumption in hybrid operation? Not really.
Comfort
If you exclude the third row, the level of comfort is high.
Performance
Performance is decent, but competitors are more explosive.
Infotainment
The system is fairly boring to look at and use.
Driving
Though blessed with excellent AWD, this not-so-compact SUV is rather heavy and not the most agile in corners.
Overall
The more you spend time in it, the more you'll enjoy it, especially if you make the most of that increased EV range.