Corvette SUV Rumour Mill Starts Spinning Again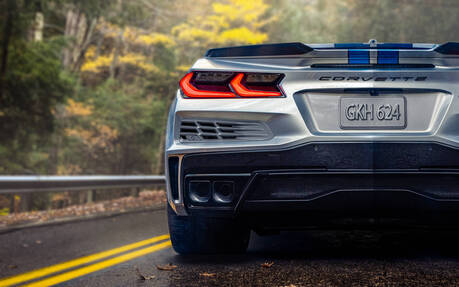 Will we actually see an SUV based on the Chevrolet Corvette hit the road by mid-decade? The rumour mill is picking up speed, once again thanks to Car and Driver.
Last November, the U.S. magazine claimed to have insider information from an employee at the General Motors Technical Center in Warren, Michigan saying that the company will turn the Corvette into a standalone brand within a couple of years.
In addition to the numerous versions of the popular coupe, which will include hybrid (E-Ray) and fully electric models, the lineup would feature a four-door liftback coupe and a crossover-style SUV. The latter was said to utilize an electric powertrain, not unlike what Ford did with the Mustang Mach-E.
However, based on new information shared by Car and Driver, the Corvette SUV will instead launch with a selection of internal combustion engines. Built on GM's Alpha platform, which currently underpins the Camaro along with the Cadillac CT4-V and CT5-V Blackwing, it could potentially be sold in two different sizes and range from a turbocharged four-cylinder with 300+ horsepower to a 6.2-litre V8 producing nearly 500 horsepower.
Wait a minute, a four-cylinder Corvette? Talk about adding insult to injury for purists. On the other hand, high-performance variants are also part of the rumours. We could easily imagine Chevrolet borrowing the new 670-horsepower V8 from the Corvette Z06 or turning to the supercharged 6.2-litre V8 in the 682-horsepower Cadillac Escalade-V.
Car and Driver goes on to predict that a reveal might happen later in 2023, with sales beginning in the second half of 2024. Colour us very intrigued.