Volkswagen Unveils More Powerful North American
ID. Buzz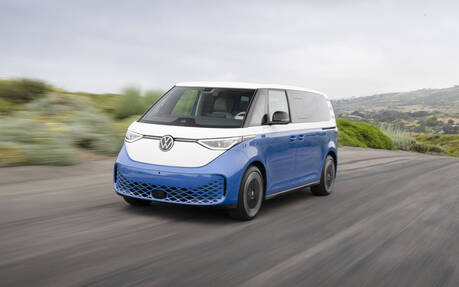 Los Angeles, California - After contemplating, scrutinizing and even driving the Euro-spec ID. Buzz, we finally had the chance to get up close and personal with the North American model of this not-so-little electric van.
And it's no surprise that the German manufacturer chose the sunny West Coast to unveil this reborn icon of automotive history.
Outside, this electric interpretation of the Microbus resembles its European counterpart in almost every respect with its retro/modern look. But because Americanization always rhymes with supersizing, it has grown in size. At 192.4 inches (4,887mm) in length, it's almost 10 inches (254 mm) longer than the European model. All this translates into a wheelbase of 127.5 inches (3,238 mm).
And even though it looks like a toaster on wheels, it does quite well in terms of aerodynamics, with a drag coefficient limited to 0.29.
More Power, Available All-Wheel Drive
The North American version of the ID. Buzz gets a power boost. The single-engine, rear-wheel-drive model outputs 282 horsepower, that's 81 more than the European model. The all-wheel-drive, twin-motor configuration is rated at 330 horsepower. It sits on a 91 kWh battery, which is more powerful than the European model's 82 kWh unit.
We know that the European version has a range of 423 kilometres according to the WLTP cycle, which is more generous than the EPA cycle. Volkswagen hasn't released any figures for the North American model, but with its larger battery, it's highly likely that it'll get more range.
An Americanized Interior
The ID. Buzz's improved dimensions enabled designers to reconfigure its already spacious interior. While the European model has only two rows of seats and can only accommodate 5 passengers, the North American model has a third row option that can accommodate two additional passengers. It is also possible to opt for captain's seats in the second row for a 6-passenger configuration. The 2nd row can be split 60/40, and its exterior seats are heated as standard. The front seats are heated and cooled, and can be adjusted to 12 different positions. The two sliding doors on the sides of the ID. Buzz are power-operated, as is the gigantic rear hatch.
A 5.3-inch digital instrument cluster displays vital driving information behind the steering wheel, while a 12.9-inch infotainment screen is fitted with the latest interface from the ID.7. Those who want a funkier ambience can choose from a wide range of ambient lighting options.
To help occupants make the most of sunny days, Volkswagen has given the ID. Buzz the largest panoramic roof it has ever designed. It covers an area of 67.4 inches (1,712 mm) by 40.8 inches (1,036.32 mm).
Naturally, the ID. Buzz is equipped with an array of safety and driver assistance systems from the manufacturer's IQ. Drive suite. Features such as head-up display, parking assistance and remote parking system, plus the usual warning and avoidance systems, come as standard.
Now that the ID. Buzz has officially landed in the U.S., everyone is wondering when it will be available at dealerships and what its price will be. Alas, these questions remain unanswered. According to the manufacturer, it should arrive sometime in late 2024 as a 2025 model - without, however, specifying when. As for prices, they will be announced closer to this date.