Volkswagen Still Wants to Have Fun in the Age of EVs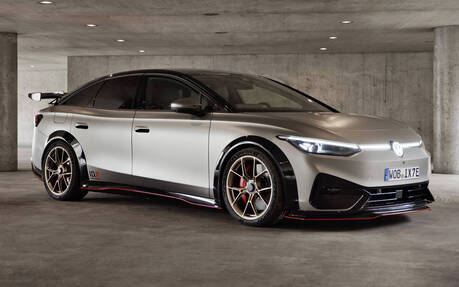 Volkswagen fans and EV enthusiasts gathered in Locarno, Switzerland a few days ago to attend the ID. Treffen festival. What they found was yet another demonstration that the company wants to have fun and please performance-craving drivers even without internal combustion engines.
Remember, at the same venue a year ago, Volkswagen introduced the ID. XTREME concept as a rugged off-road variant of the current ID.4 crossover. Now, we're talking about a sporty car that can excel both on the road and on the track.
The ID.X Performance is based on the ID.7 sedan that will launch in Canada next year as a 2025 model. It definitely looks the part with a carbon front splitter and rear diffuser, 60mm lowered chassis and carbon wing on the rear hatch. The darkened taillight clusters add visual aggression, too.
We love the exclusive 20-inch alloy wheels in a gold finish, which are wrapped in Michelin Pilot Sport Cup 2 R performance tires that provide 265 mm of grip. They're attached to a sport suspension with particularly stiff shocks.
Inside, designers fitted unique carbon bucket seats with generous bolsters. It's a shame none of the pictures released by Volkswagen gives a good look at them. Various red accents spice up the cabin and express the car's sporty aspirations.
550 Horsepower and AWD
All of this is nice, but the proverbial piece de resistance of the ID.X Performance is a dual-motor system delivering 550 horsepower. Peak torque is not specified. However, Volkswagen says torque distribution is governed by a Vehicle Dynamics Manager, which also manages operation of the rear axle differential lock. The function is controlled on a separate 6.7-inch display in the centre console below the main 15-inch touchscreen.
Acceleration times remain unknown. If we had to guess, 0-100 km/h sprints in four seconds or quicker sound about right. As for the battery, it's said to have a charging capacity of up to 200 kW.
What are the chances Volkswagen greenlights this project? Pretty slim, if you ask us. Still, we applaud the effort.
As a reminder, the production ID.7 will be offered in RWD configuration with a completely new, highly efficient drive unit rated at 282 horsepower and 402 lb-ft. of torque.
Globally, there will be two batteries to choose from, with a usable capacity of 86 kWh and 77 kWh, as well as a projected range of 700 km and 615 km, respectively. Too bad only the smaller battery will be available in North America. Also, the range estimates are based on the WLTP standard, meaning drivers in Canada should expect something around 500 km. DC fast charging will be possible at up to 170 kW.
Semi-autonomous driving (including assisted lane changes on the highway) and advanced parking assist (which even works when the driver is standing outside the car) are also part of the package.
The Volkswagen ID.7 will be built in China for the Chinese market and at the Emden plant in Germany for the European and North American markets. More details will be shared in the coming months.