2024 Volkswagen ID.4 to Get Extra Power, Range and More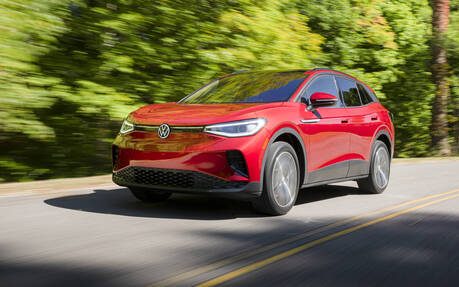 The Volkswagen ID.4 is set to receive significant upgrades for 2024, its third full year on the Canadian market. Among other things, expect more power and longer range than before, plus a more user-friendly infotainment system.
The 2024 ID.4 equipped with the larger 82kWh battery will gain a more potent rear drive unit shared with the upcoming ID.7 sedan. Output will therefore increase from 201 hp to 282 hp in RWD configuration and from 295 hp to around 330 hp in AWD configuration.
The company has not yet announced final specifications, mind you. One thing's for sure: the bump in horsepower will make the German electric crossover more competitive versus the likes of the Hyundai IONIQ 5, Kia EV6 and Ford Mustang Mach-E.
Volkswagen says ID.4 range will be improved in the process. How much? This information will be released closer to the 2024 model's launch early next year. As a reminder, the current ID.4 boasts NRC ratings of 443 km (RWD) and 410 km (AWD).
No word yet about the entry-level ID.4 equipped with the 63kWh battery, either. That one generates 201 hp and can travel up to 336 km with a full charge.
Wait, It Gets Even Better
Larger wheels are coming to select ID.4 models for 2024. Stepping inside, all units will feature a new shifter position and a revised steering wheel layout, as well as additional content depending on the trim level. In particular, a nine-speaker Harman Kardon premium sound system will be available.
More importantly, our prayers have finally been answered: ID.4 models featuring the larger battery will get an enhanced 12.9-inch centre display with backlit sliders, a new and more intuitive climate control interface and a revised infotainment menu. Customers who settle for the base ID.4 won't be so lucky, however.
Production of the ID.4 for Canada and the U.S. will continue to take place exclusively at the automaker's Chattanooga assembly plant in Tennessee. We'll have more details to share with you by the end of the year, so watch this space. And by mid-2024, the ID.4 will be joined by the aforementioned ID.7 sedan and the ID. Buzz minivan as 2025 models.