The Best Electric SUVs of 2023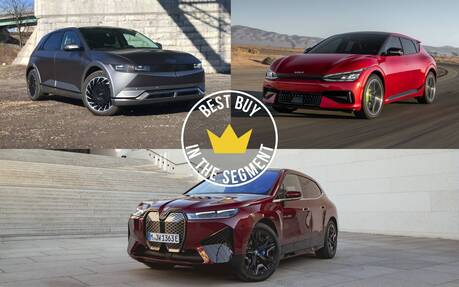 Drivers looking for an electric SUV or crossover now have plenty of selection, and it's about to get even better. Another great thing is that you can find some at various price points.
What are the best buys you can make in 2023? The Car Guide is here to help you out. Scroll down to see the list.
Mainstream Electric SUVs
In the non-luxury segment, South Korea's Hyundai IONIQ 5 and Kia EV6 are hands down the best picks. In fact, they finished first and second, respectively, in a comparison we did last year for our annual book (French only). While they have a lot in common beyond their wildly different exteriors, the former got the edge due to a slightly roomier and more convenient interior.
Both make a pretty convincing case with their solid performance (topped by the 576-horsepower EV6 GT), remarkable range (up to nearly 500 km) and unbeatable fast-charging capability (about 220 kW from the most powerful DC chargers). Technology is beautifully integrated, too, and good towing capacity adds to their practicality.
As an alternative, consider the Volkswagen ID.4, which added a cheaper entry-level model for 2023 and also enhanced standard content with a 12-inch touchscreen. Offering generous space on top of adequate power and range, it ranks above the Ford Mustang Mach-E, which suffers from a less comfortable ride and some quality/reliability issues.
Electric Luxury SUVs
If you want a more premium electric SUV, the BMW iX should be at the top of your list, in our opinion. Sure, the exterior design is fairly polarizing, but with a range of up to 521 km (550 km in optimum road and weather conditions), this German contender is mighty impressive.
The portfolio now includes three models, from the base xDrive40 equipped with a smaller battery to the strong and sporty M60 sitting at the top of the line. The user interface is fantastic despite the large number of menus and functions. Space, seat design, comfort and technology are further attributes that elevate the iX above the rest.
In second place, we chose the Cadillac LYRIQ. Maximum range is officially rated at 502 km, and there's a wide array of safety and driver assistance technologies such as Super Cruise, which enables hands-free driving in certain conditions. Here's a refreshing product that marks a radical departure from past Cadillacs. Orders for the revised and improved 2024 model are already well underway.
Finally, how about the Genesis GV60? Remember, we at The Car Guide named it 2023's Best New SUV of the Year, all segments considered. Sharing most of its technical components with the Hyundai IONIQ 5 and Kia EV6, the GV60 offers a similar formula, while integrating a good dose of luxury and cutting-edge technology. You can actually unlock the vehicle with facial recognition and get it going with a fingerprint scanner.
Watch: The Car Guide Drives the All-New BMW iX