2024 Kia EV9: Three-Row EV Making a Great First Impression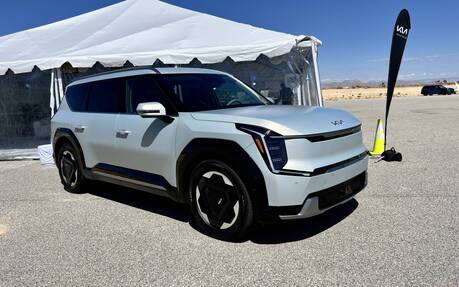 The Car Guide was given the opportunity to test drive the all-new 2024 Kia EV9 at the Hyundai Proving Grounds in the Mojave Desert, which isn't too far from the famous Edwards Air Force Base. Despite the event being held on a closed track, we managed to learn a lot about this electric three-row SUV ahead of the first deliveries in Canada later this year.
In case you're wondering, Canadian pricing has yet to be announced. We'll find out the details in October. Same thing for Canadian allocations. All we know is that a first batch of 500 units were made available to pre-order back in the spring.
One Battery, Four Models
Unlike other markets where a 76.1kWh battery and a 99.8kWh battery are offered, all EV9s to be sold in Canada will come with the larger pack, though in four different variations. The base EV9 Wind is a single-motor unit producing 201 hp and 258 lb-ft. of torque. It's the longest-range model in the lineup since it can travel up to an estimated 480 km.
Kia expects the dual-motor EV9 Land to be the most popular pick with 379 hp, 443 lb-ft. of torque and 442 km of range. A more upscale Land Premium model and a high-performance GT-Line model delivering 516 lb-ft. of torque (434 km of range) are also part of the mix.
By the way, the first two boast a seven-passenger configuration, while the others can accommodate only six people. Since the EV9 uses an 800V architecture, DC fast charging makes it possible to charge the battery from 10-80 percent in just 25 minutes. Vehicle-to-load (V2L) technology will allow users to power other devices or even a house in the event of an outage. 
A Big Playground
The Hyundai Proving Grounds cover 4,500 acres and feature 120 km of paved roads and dirt trails where the Korean automaker can test its new vehicles on various surfaces. Our first experience with the EV9 involved pre-production prototypes and not actual production models, but we got to drive them on a road course, a high-speed oval, as well as a test track including acceleration and braking areas plus a slalom course. Oh, and we even spent time on some sandy trails.
On the road course, the EV9 displayed remarkable poise while achieving 0.84 Gs of lateral acceleration—better than a Mercedes-Benz EQS SUV. There are several drive modes to choose from, with Sport sharpening up the EV9's reflexes and reducing body roll.
At 180 km/h on the high-speed oval, the EV9 remained quiet thanks to acoustic glass and excellent drag coefficient (0.28). Highway Driving Pilot technology, which uses 15 different sensors including a pair of lidars, proved particularly effective at keeping the vehicle straight and centered in its lane. That was even the case when negotiating corners at higher velocities than normal speed limits.
The acceleration, braking and slalom exercises allowed us to push the EV9 closer to the limit. The dual-motor EV9 GT-Line is admittedly quick off the line but not a rocket, either (0-100 km/h in 5.3 seconds). Naturally, the single-motor variant is much slower (over 9 seconds). While going through the slalom, body movements were nicely kept in check despite the heavy weight. Also, braking distances turned out to be shorter than those of the Mercedes-Benz EQS SUV.
Clearing obstacles is not the EV9's forte, but with 7.8 inches of ground clearance it can confidently go off-road. The electronic AWD system combined with Snow mode made short work of the sand, while hill descent control came in handy on a few occasions. Need to tow a trailer? The EV9 has a maximum towing capacity of 5,000 lbs in dual-motor configuration.
In terms of size, the electric three-row SUV is similar to the conventionally powered Telluride, but the 200 mm of extra wheelbase result in a more spacious cabin. Kia's new design language comes to life with angular lines and bold wheel arches, not to mention unique bumpers in GT-Line trim. Available wheel sizes range from 19-21 inches and customers can select one of many body colours. Sadly, the matte finishes are not available in Canada.
Plenty of Room
The amount of space in the second row is pretty generous and even third-row occupants can feel comfortable. Up front, two 12.3-inch displays are mounted side by side on the dashboard, while backlit controls provide access to a number of vehicle functions. Music lovers don't want to miss the optional 708W Meridian sound system with 14 speakers. USB-C ports are included for everyone on board, while cargo capacity increases from 566 litres to over 2,300 litres when all the rear seats are folded down. There's a front trunk, as well, but keep in mind that it's smaller on dual-motor EV9s.
Early adopters in the U.S. will receive a domestic 240V charger at no cost, free charging for a limited time and three years of complimentary maintenance. The company has not yet announced if a similar offer will be made in Canada, but they're thinking about it.
Following the existing EV6 and now the EV9, Kia's electric vehicle portfolio will continue to expand with the compact EV5, which recently debuted in China, and include as many as seven models in North America by 2027. Demand for the Korean-built EV9 will inevitably be strong, so an assembly line will soon be added at the West Point factory in Georgia, which should improve availability and delivery times in Canada.
Test drive report
Test model

N/A

Trim level
GT-Line
Price range
N/A
Price as tested
N/A
Warranty (basic)
N/A
Warranty (powertrain)
N/A
Fuel economy (city/highway/observed)
N/A
Options
N/A
Competitive models
VinFast VF 9
Strong points

Spacious cabin
Quiet ride
High-performance GT-Line model
Effective driver assistance features

Weak points

Heavy weight
Polarizing looks
No matte finishes available for 2024
Single-motor variant lacks power

Editor's rating
Fuel economy
Comfort
Performance
Infotainment
Driving
Overall