2024 Kia EV9 Debuts as Three-Row Electric SUV With Stormtrooper Looks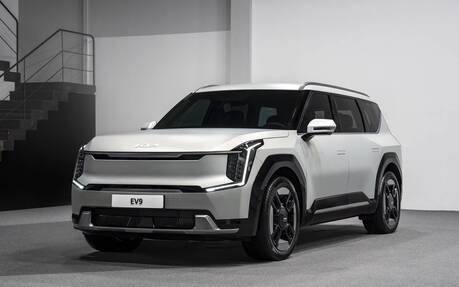 Kia today hosted the global reveal of the all-new EV9 in Seoul, South Korea. The Car Guide attended the event and can tell you that Kia's three-row midsize electric SUV will go on sale in its domestic market next month followed by North America this fall.
Unsurprisingly, the production model borrows many elements from the EV9 Concept that we saw at the Los Angeles Auto Show back in November of 2021.
Most Star Wars fans will agree that the 2024 Kia EV9 has a Stormtrooper look with that matte-finish Ivory Silver body and numerous black accents. The angular design is a sharp contrast with the smooth curves of the smaller, sportier EV6—the brand's first electric SUV (no, the Niro EV doesn't count).
Karim Habib, Executive Vice President and Head of Kia Global Design, says the EV9 represents another expression of Kia's "Opposites United" design philosophy. It's obviously more down-to-earth than the aforementioned concept, which featured reverse-opening side doors creating wide-open access to the interior.
Tiger Mask
While unabashedly boxy like so many conventionally powered SUVs, the new Kia EV9 stands out with vertically arranged headlights. The brand's so-called "tiger nose" front fascia expands into a "tiger mask," the front and rear fenders are defined by clear-cut lines in a triangular pattern, and the relatively low beltline maximizes the glass area.  
Verticality can be seen in the taillights, as well, with their three-pointed "Star Map" design. By the way, the EV9 rides on futuristic-looking 19- or 21-inch wheels in a two-tone finish (at least those on the debut model). In addition to Ivory Silver, customers will be able to specify the same electric blue that made the EV9 Concept such a head-turner. Both colours will be available in a metallic or matte finish.  
Digital Interface
Inside the 2024 Kia EV9, the seats in the first two rows are mounted on rails so passengers can slide them fore and aft to increase legroom. In front of the flat-top, flat-bottom steering wheel is a large digital interface that consists of two separate displays—one for the instruments and a second for infotainment and other vehicle functions.
A third display—in a vertical, smartphone-like layout—can be found between the two horizontal screens. The EV9 debuts Kia's next-generation infotainment system powered by faster processors. Even though company officials have yet to confirm it, look for wireless Apple CarPlay and Android Auto connectivity to be included.
The lower dashboard, meanwhile, features a series of backlit controls. There are no physical buttons anywhere, except for the four that reside on the centre console.
Familiar Underpinnings
The Kia EV9 is built on the same e-GMP architecture as the EV6, and while today's introduction focused exclusively on styling, a few specs recently leaked online thanks to a screen capture shared by Car and Driver.
In the U.S., the EV9 will reportedly offer a single-motor RWD variant producing 200 hp and 250 lb-ft. of torque, good for 0-60 mph sprints in 8.5-8.9 seconds. With the base pack, maximum range is estimated at 354 km and towing is not possible. With the larger-capacity battery, drivers would be able to travel 466 km and tow up to 2,000 lbs.
A dual-motor AWD variant will be offered, obviously, this one delivering a total of 400 horsepower and 380 lb-ft. of torque while towing up to 3,500 lbs. Acceleration is quicker as you can imagine (0-60 mph in six seconds), and maximum range amounts to 418 km. If those range estimates are based on the WLTP standard and not the EPA's, expect the real numbers to be at least 11 percent lower.
That's all we know about the 2024 Kia EV9 at this point. More details about the North American-spec model will be announced at a later date. We'll likely get the opportunity to test drive this three-row electric SUV sometime between now and the summer, so keep in touch.
LISTEN: Gab covers the 2024 Kia EV9 unveiling in Seoul