2024 Kia EV9 Specs Revealed Including up to 380 Horsepower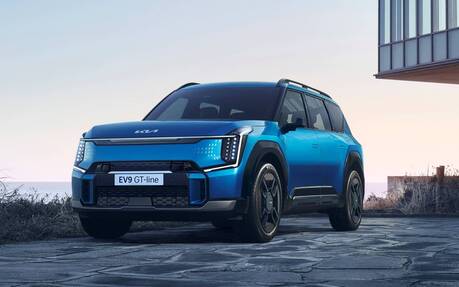 The 2024 Kia EV9, the Korean brand's all-new, three-row electric SUV, officially made its global debut yesterday following the reveal of the design a couple of weeks ago.
We now have a bunch of specs and technical details that we can share with you. Remember, sales in Canada are scheduled to begin this fall.
Built on the same e-GMP architecture as the EV6, this midsize SUV stands 5,010 mm long, 1,980 mm wide and 1,755 mm tall, giving it almost identical dimensions to the Telluride. However, at 3,100 mm, the wheelbase is 200 mm longer, resulting in a lot more legroom for passengers. A choice of 21-inch, 20-inch or 19-inch wheels will be available.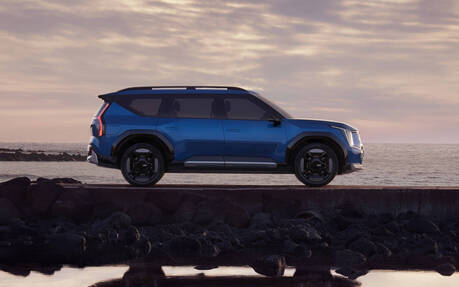 Inside, the Kia EV9 offers six-seat and seven-seat configurations with four different options in the second row (depending on the market). Among them are individual captain's chairs that swivel up to 180 degrees to enable conversations with those seated in the third row, as well as so-called relaxation seats that recline for a quick nap while the vehicle is charging.
By the way, the EV9 is the first model to embrace Kia's three-step Design Sustainability Strategy, initiated to phase out the use of leather, apply ten 'must-have' sustainable items to all new Kia models and continuously increase the use of bio-based materials such as corn, sugar cane, and natural oils. Kia's target is to increase the proportion of recycled plastics it uses to 20 per cent by 2030.
Batteries, Power and Range
For the EV9, Kia came up with a choice of two batteries rated at 76.1 kWh and 99.8 kWh, the former being offered exclusively with RWD. Curiously, the motor that drives RWD models generates more power with the smaller battery (160 kW/215 hp) than with the larger battery (150 kW/201 hp), and the difference in acceleration from 0-100 km/h is not negligible (8.2 seconds vs. 9.4 seconds).
Meanwhile, dual-motor AWD models produce a combined 283 kW/380 hp along with 443 lb-ft. of torque. They can sprint from 0-100 km/h in just 6 seconds. Kia says that an optional Boost feature, available for later purchase at the Kia Connect Store, will increase torque to 516 lb-ft. and shorten acceleration times to 5.3 seconds.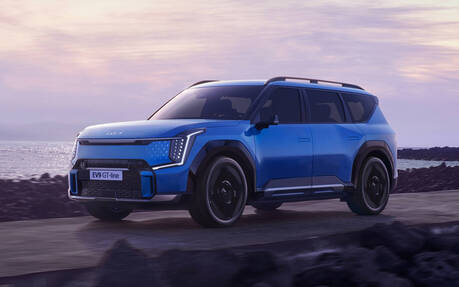 What about range? The RWD Long Range model with 19-inch wheels is said to offer an estimated 541 km according to the WLTP standard, which is typically a good 10 percent more optimistic than the standards used in Canada and the U.S. Thanks to its ultra-fast 800V charging system, the EV9 can regain nearly half its maximum range in approximately 15 minutes when plugged into a 350kW charger.
Similar to the EV6, it also comes with Vehicle-to-Load (V2L) functionality through its Integrated Charging Control Unit, meaning you can use up to 3.68 kW of power for laptops or camping equipment.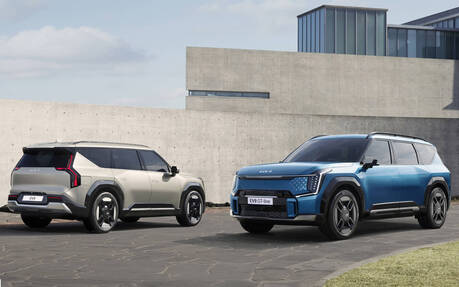 A key feature emphasized by Kia is Highway Driving Pilot technology, which will provide the EV9 with conditional Level 3 autonomous driving capability in certain areas of the world. Fifteen sensors, including two lidars, make it all possible, but only in GT-line trim.  
We could tell you much more about the EV9, of course, but it's probably best to wait until next week as Kia will introduce the North American-spec model on April 4 at the New York Auto Show. The Car Guide will be on hand to cover the event, so stay tuned.