Volkswagen ID.4 Embarking on Cross-Country Guinness Record Attempt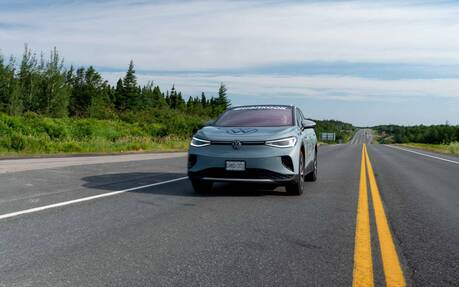 Rainer Zietlow, a German long-distance driver who holds multiple world records, is now attempting to add another one right here in Canada by traveling from coast to coast in an electric vehicle with the least number of charging stops.
Instead of using an EV with industry-leading range, Zietlow picked a model from his home country, namely a Volkswagen ID.4. According to Natural Resources Canada, the German crossover can drive for up to 443 km with a full charge of its 82kWh battery.
"The ID.4, with its excellent battery capacity is ideally suited for this record drive," he said.
Along with his cameraman Elric Popp, Zietlow departed St. John's, Newfoundland & Labrador on Tuesday. His trip is scheduled to conclude in Victoria, B.C. and will be followed by a return to St. John's in the record-setting ID.4, with stops planned at all 145 Volkswagen Canada dealers along the way.
Most of the charging will be done at these dealers, as well as fast-charging stations including those of Electrify Canada, the charging network supported by Volkswagen.
How many charging stops will allow Zietlow and the ID.4 to set a Guinness World Record? You can follow the journey at vwid4-canadatour.com. UPDATE--08/02/2023: Zietlow has just completed his 7,133km trip in seven days, stopping only 18 times to charge his ID.4, which represents an average of 396 km between charges.