2023 Volkswagen ID.4 Recalled for Fire Risk From 12V Battery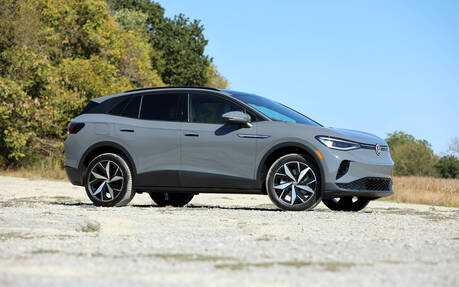 Volkswagen has announced a new recall on the ID.4 electric crossover due to the risk of a fire caused by the battery—not the high-voltage unit feeding the motors but rather the 12V battery.
The good news is that only a small number of units are affected including just over a thousand in the U.S. and 42 in Canada. Furthermore, Volkswagen estimates that only 3 percent of vehicles recalled will be affected by the problem. 
What are we talking about exactly? According to documents sent to the U.S. National Highway Traffic Safety Administration (NHTSA), the wiring harness for the 12V battery connecting cable may have a bend that isn't supposed to be present. Consequently, the cable may contact the steering column shaft, resulting in the cable insulation wearing through and possibly causing a short.
A U.S. dealer noticed a "production deviation" during a pre-delivery inspection on December 8 and alerted Volkswagen immediately. Following a more thorough investigation, the company determined that some cables from the supplier were not to specification. More precisely, affected units are RWD variants of the 2023 ID.4 produced in Chattanooga, Tennessee between October 18 and December 15, 2022.
Given the nature of the problem, which would take a long time to manifest, no related incidents have been reported so far. Volkswagen will start to notify owners in late February and ask them to take their vehicle to a dealer to have the 12V battery cable inspected and replaced if necessary.
In Canada, three more recalls have been announced for the ID.4, all of them affecting 2021 and/or 2022 models. Problems include the passenger-front airbag that may not inflate properly in a crash, the rear-view camera image that may not display after shifting into reverse, and trouble with the high-voltage battery that may cause the electric motor to shut down.