First Tesla Cybertruck Finally Rolls Off the Line in Texas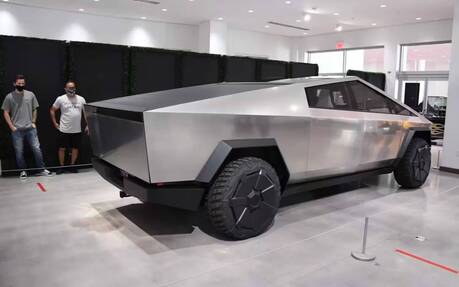 Tesla on Saturday announced that its first electric pickup -- a slick-looking silver Cybertruck -- had rolled off the assembly line at its huge plant near Austin, Texas.
"First Cybertruck built at Giga Texas!" says a tweet from the company, accompanied by a photo of the futuristic vehicle amid a sea of helmeted and yellow-vested Tesla workers.
Elon Musk, who owns both Tesla and Twitter, reposted the tweet with the comment "Congrats Tesla Team."
Congrats Tesla Team! https://t.co/FPUgBqBpdY

— Elon Musk (@elonmusk) July 15, 2023
The company had promised in April that it would be rolling out the first Cybertrucks before the end of the year.
Plans for the vehicle, with its silvery, tortoise-like shape and unusual angles, were first announced in November 2019.
Its original introduction went awry when Musk urged a Tesla employee to strike one of the prototype's windows with a hunk of steel to show its solidity. The window broke -- drawing a laugh and a curse word from Musk -- as did a second window on an ensuing attempt.
Yet within two days, Tesla said it had received nearly 150,000 advance orders.
In May, Musk said the company hoped to build 250,000 units of the truck a year -- a number he said could eventually double, given a relatively accessible price tag.
Tesla will be making three models of the Cybertruck, a vehicle that can accelerate from 0-60 miles per hour (approx. 100 km/h) in less than three seconds. The base model was first announced at $39,900 USD and with a 250-mile (400-km) range between charges; the top-line truck will have twice that range (800 km) and was supposed to sell for $69,900 USD.