2024 Mercedes-Benz CLE Coupé: Elegant Consolidation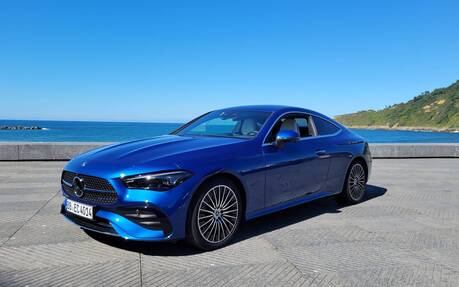 The coupe and cabriolet segments are slowly fading away and are no longer as hot as they once were. Mercedes-Benz has always been an expert in the field, providing luxury two-door enthusiasts with extensive selection of models, each one more expensive and elegant than the other. Although simpler and more focussed, the strategy remains. Mercedes wants to keep a foothold in these segments and dominate the remaining market shares.
With manufacturers consolidating and trimming the excess fat off their lineups, it is wise to simplify the offering to maximize profit and reduce risk. As a result, the coupes and cabriolets of the compact C-Class and midsize E-Class have been merged to create the new CLE-Class.
The Car Guide travelled to the San Sebastian region of Spain to test-drive the coupe version of this new arrival in the MB family, which will arrive in early 2024, and to contemplate the cabriolet variant that will follow later in 2024.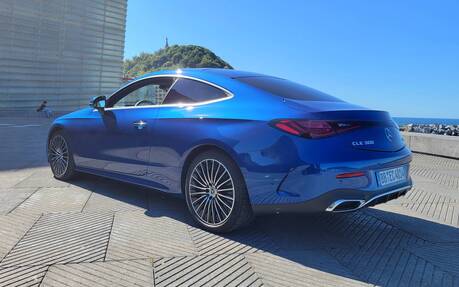 Large on the Outside, Compact on the Inside
Let's talk package. In the spirit of consolidation, logic would dictate that the CLE should sit midway between the C-Class and the E-Class to catch the eye of the two segments' typical customers. However, everything in the industry seems to grow in size, and the designers have chosen to follow the trend. In fact, the CLE is 164 mm longer than the C-Class and even 15 mm longer than the E-Class.
Mercedes-Benz has opted for elegance once again, with lines reminiscent of past Mercedes-Benz coupes and convertibles, complemented by a front end featuring the large signature horizontal grille. In the cabin, however, the effect of size and space is not entirely transposed. The interior, which is highly technological and modern, offers slightly more than the C-Class in some respects, but considerably less than the E-Class. The upholstery provides comfort worthy of a grand tourer, with the added bonus of surprising lateral support.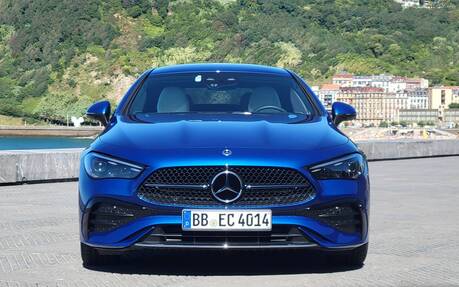 On the dashboard, the MBUX interface manages everything the driver needs... and needs less. Although the system is very complete and useful in the majority of its functions, the navigation needs quite a bit of work. Unnecessarily complex and unpredictable, it didn't turn out to be the best driving companion during our test drive.
The trunk offers 420 litres of space for the driver and passengers, some 60 litres more than in the C-Class Coupé, which, according to the manufacturer, can accommodate three golf bags. Unfortunately, we didn't have a scheduled tee-off, so it was impossible for us to validate this claim.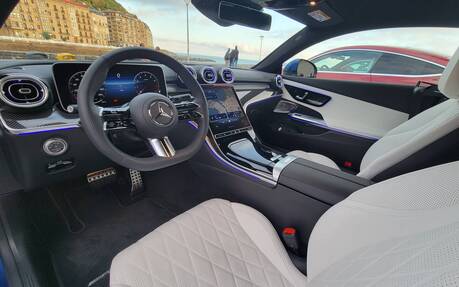 A Smooth, Daily Driver Ride
Buyers won't be spoiled for choice, as there is only one model available in Canada, at least for the time being. The CLE 300 4MATIC powered by a 2-litre turbocharged four-cylinder mated to a 48-volt hybrid system delivers 255 hp and 295 lb-ft of torque, with a temporary additional boost of 23 hp and 148 lb-ft thanks to the electric part. Elsewhere in the world, other variants are offered, such as the CLE 450 equipped with a turbocharged 6-cylinder, as well as a diesel-powered 300d model.
Under acceleration, the mild hybrid system enables the CLE-Class to deploy a crisp thrust. At high speeds, this enthusiasm fades gradually and naturally. After a good start in a straight line, the car's dynamics are smooth and comfortable in corners. When driven with enthusiasm, the CLE feels heavier than other coupes in its segment. Even in Sport mode, the CLE Coupé seems rather timid in its calibrations. But when it comes to ride comfort, the CLE nails it.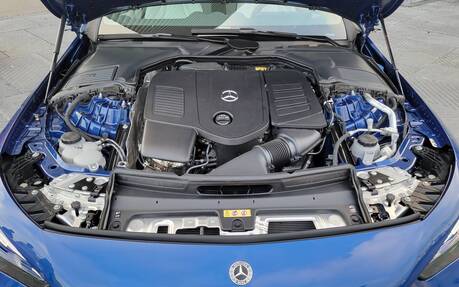 Elegant, comfortable, technological and accommodating on the road, this coupe will appeal to customers looking for a Mercedes-Benz-like driving experience; capable but not too sporty. Despite navigation technology requiring some fine-tuning, and power that's sometimes limited in some respects, it's impossible to ignore the fact that the CLE coupe stands out positively in a segment where rivals are becoming increasingly rare. And if the future is any indication of the past, versions like the more powerful CLE 450 armed with the turbocharged 6-cylinder engine could cross the border, not to mention possible AMG models in the years to come. Canadian pricing for the Mercedes-Benz CLE has not yet been revealed.
Test drive report
Test model

N/A

Trim level
300 4MATIC
Price range
N/A
Price as tested
N/A
Warranty (basic)
N/A
Warranty (powertrain)
N/A
Fuel economy (city/highway/observed)
N/A
Options
N/A
Competitive models
N/A
Strong points

Allure d'une élégance digne de la marque
Habitacle confortable et très moderne
Conduite soupleet confortable

Weak points

Puissance de la CLE 300 un peu juste
Espace intérieur un peu étroit
Système de navigation à revoir

Editor's rating
Fuel economy
N/A N'a pas pu être calculée lors de l'essai.
Comfort
La sellerie de la CLE est bien adaptée côté support latéral, mais pourrait s'avérer étroite pour des conducteurs et passagers de gros gabarit.
Performance
La performance est suffisante, mais un peu juste. D'éventuelles variantes plus performantes pourront émoustiller les amateurs de performance.
Infotainment
Une interface compétente dans son ensemble, mais assortie d'un système de navigation qui doit être revu.
Driving
Conduite souple et confortable. Un mode Sport plus agressif côté châssis aurait été apprécié sur les routes sinueuses.
Overall
La CLE Coupé est élégante et offre une conduite très agréable dans la majorité des situations. Hormis les performances limitées du quatre cylindres, les sièges étroits et la navigation médiocre, la CLE est une consolidation réussie.