2024 Acura Integra Type S: Better Than a Civic Type R?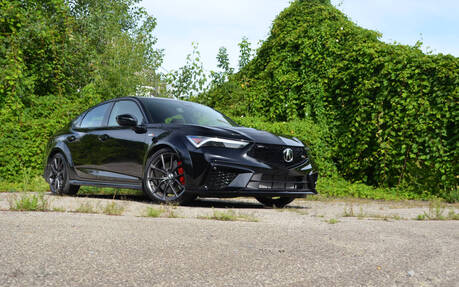 Much has been said about the return of the Integra nameplate a little more than a year ago, which set the internet ablaze. Essentially a more premium Honda Civic in a five-door hatchback configuration, Acura's new entry-level car found a way to please enthusiasts by offering a six-speed manual transmission in top-line A-Spec trim (similar to the Civic Si).
However, the luxury brand spiced things up quite a bit this year with the addition of the much sportier Integra Type S, which is like a Honda Civic Type R with an extra dose of class and refinement.
Which letter suits you best—R or S? We recently put the sportiest Integra ever to the test to help you decide.
More Muscular Yet Buttoned Down
Acura designers showed restraint as they worked to build on the success of the Civic Type R. Styling is unique to the Integra, of course, but the practical rear liftgate is still part of the package—complete with a folding rear bench—although the cargo sill is higher than that of some crossovers.
The Integra Type S gets a tiny spoiler on the trunk, unlike the Civic Type R's prominent rear wing. Below are the same triple exhaust tips incorporated into the gloss black diffuser in a centrally mounted position. Similar to Honda's hot hatch, this one also benefits from wider tracks and 19-inch wheels sitting under properly flared fenders.
Other highlights include Type S badging on said fenders and trunk, plus a much more aggressive front fascia with a unique mesh grille and hood scoop. Our Majestic Black tester looked quite dapper as if dressed up for a gala. Platinum White, Tiger Eye (gold) and Apex Blue are flashier alternatives.
Honda won't fool its most discerning enthusiasts, who are well aware of the connections between the Civic Type R and the Integra Type S, but the latter appears to be upscale and distinctive for the average customer.
A Familiar Interior
While the two cars look different on the outside, the interior of the Integra Type S reveals a lot more similarities—from the sleek air vents and displays on the dashboard to the near-perfect driving position. We like the fact that designers resisted the urge to put a flat-bottom steering wheel in there. The one we have is pleasant to manipulate, though it lacks a je ne sais quoi that most track-ready machines seem to possess.
Maybe grip? We did find the steering wheel in the Integra Type S to be a tad slippery. Also, the front buckets lack support. On the plus side, the shifter is exactly where you want it to be, and right next to it is the drive mode switch that allows you to adjust the car's settings to your mood of the moment or changing road and traffic conditions.
Almost Orgasmic
It makes sense to compare the new Integra Type S with the Civic Type R. Both ride on the same platform and use the same powertrain. Acura engineers went to work to give the turbocharged 2.0-litre four-cylinder engine an extra 5 horsepower for a total of 320 horsepower, the result of a less restrictive exhaust system. Peak torque is unchanged at 310 lb-ft.  
Your right foot won't feel any difference, mind you. The main impression after spending a bit of time with the Integra Type S is that Acura's hot hatch is smoother and quieter.
To be clear, it's just as explosive as its Honda counterpart. Playing with the clutch and manual shifter is almost orgasmic, while the sound of the turbocharged mill is really not bad at all. What's more, and that came as a big surprise to us, the 19-inch wheels don't seem to affect ride quality. If you regularly drive on poorly maintained roads, you'll be thankful for the remarkable job Acura has done with the chassis.
Here's our advice when driving the Integra Type S around town: switch to the Individual drive mode, which allows you to select a more comfortable suspension setting without sacrificing throttle and steering response. Sport+ mode should only be used on slick, twisty country roads or for lapping sessions on a track.
Another thing we liked about this juiced-up Integra is handling. Once the Michelin Pilot Sport 4 S performance tires are warmed up, the car feels glued to the road and inspires much confidence, even on spaghetti-shaped stretches of pavement.
There will be a few critics that complain about the lack of all-wheel drive, similar to the Civic Type R, but it's not that big a deal on dry surfaces. Sure, you can feel a bit of torque steer at times, and the wide tires are a problem when accelerating or changing lanes on a rutted highway, but overall the mighty Integra Type S proves super easy to drive. Just remember the laws of physics and you'll be fine.
The $5,550 Question
The 2024 Acura Integra Type S carries a base MSRP of $55,600, which is $5,550 more expensive than a 2023 Honda Civic Type R. In our opinion, this is a reasonable premium to pay to get the Acura badge.
The two hatchbacks deliver very similar performance and thrills and are likely to age well, retaining terrific value in the used-car market. We're talking about future collector's items here.
The Civic Type R is definitely more of a purist's car, but the Integra Type S should not be scoffed at. In fact, it will probably be the preferred option of sports car enthusiasts who don't necessarily want to turn heads wherever they go.
Test drive report
Test model

N/A

Trim level
Type S
Price range
$38,850 – $55,600
Price as tested
CA$55,600
Warranty (basic)
4 years/80,000 km
Warranty (powertrain)
5 years/100,000 km
Fuel economy (city/highway/observed)
11.0 / N/A / N/A L/100km
Options
Majectic Black Pearl paint ($500)
Competitive models
Audi A3, Cadillac CT4, Mercedes-Benz CLA, MINI 5 Door
Strong points

Super fun to drive
Comfortable by sports-car standards
Barely more expensive than a Civic Type R

Weak points

No automatic transmission
No all-wheel drive
Limited visibility in the rear

Editor's rating
Fuel economy
The 320 horses under the hood are surprisingly frugal.
Comfort
The adaptive suspension enables fairly decent ride quality.
Performance
The most bang for your buck, especially among FWD sports cars.
Infotainment
A lot better than previous systems, though not one of the leaders.
Driving
This hot hatch just begs to be driven.
Overall
The 2024 Acura Integra Type S is not perfect, but the thrills behind the wheel easily justify the price.