An Offroad Version For The Fiat 500L?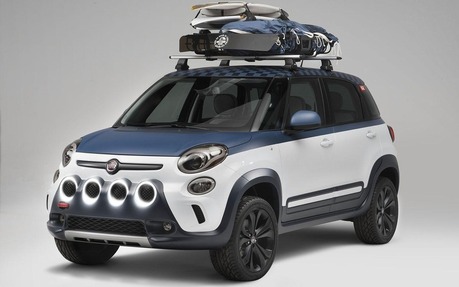 Fiat has been officially sponsoring the Vans US Open of Surfing in Huntington Beach, CA for the last 2 years. This year, they will bring a specially modified version of their 500L Trekking for the occasion.
Since the press release is unusually silent about the vehicle's specifications, we can only guess at what has been modified. We can clearly see it has a new front bumper with daytime-running LED rings, two-tone paint job and a new roof rack. It also look somewhat higher than the stock 500L. Inside, the whole dashboard has been ''stickerbomb'd'' with various iterations of the Vans logo, and the seats are covered with a printed fabric. The pedals are also covered in Vans' signature rubber waffle sole.
While there are no plans to sell this concept right now, it will be quite interesting to see how the public reacts to it. The ''soft-roader'' segment is quickly picking up speed, and a few manufacturers are already rolling out models that are based on city-dwelling vehicles, but which look like they can hold their own off-road (the VW Beetle Dune and the MINI Countryman, for example).