Audi Forbidden Fruit: Q2, RS Q3 and Q7 e-tron TDI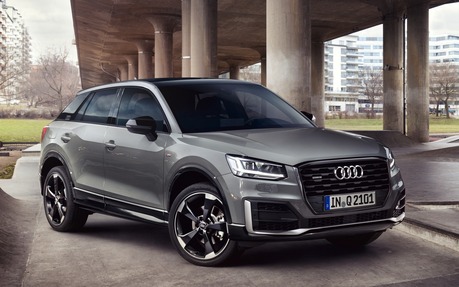 Denying the North-American market from certain car models isn't something new at Audi. We can simply think of the little A1 and its sportier, 231-horsepower S1 variant, the Sportback and Cabriolet versions of the 292-hp, Audi S3 as well as the A4 Avant and its 354-hp, S4 counterpart.
Need more examples? How about the Audi A6 allroad, a high-riding version of the brand's midsize entry, or the RS 6 Avant, a 560- or 605-hp missile trapped in a wagon body. Or even the Audi A8 Hybrid and its 245-hp powertrain, which allows the big sedan to consume as little as 6.2 L/100 km on the European test cycle.
So far, we can understand Audi for having decided to not offer these cars in Canada, as they would sell in so little quantities that certification costs for our market would hardly make them profitable. We, North-American consumers, have a growing interest in SUVs. Which means we get the automaker's complete line of utility vehicles, right?
Wrong.
On our market, the smallest SUV is the Q3 subcompact, but in Europe, there exists the Audi Q2, which was unveiled earlier this year at the Geneva Auto Show. It rides on a wheelbase that's virtually identical to the Q3's, but it's shorter, narrower and its roofline is slightly lower. This urban utility vehicle offers a very modern look, and under its hood is a good choice of gasoline and diesel powertrains, with output ranging from 116 to 190 horsepower. We're crazy about small luxury SUVs here, but Audi doesn't believe in the potential success of the Q2 on our market.
We also admire performance-oriented vehicles, and the RS Q3 represents a perfect mix of style and muscle with its turbocharged, 2.5-litre five-cylinder engine that develops 340 hp as well as 332 lb.-ft. of torque. The RS Q3 can accelerate from 0 to 100 km/h in 4.8 seconds and reach a top speed of 250 km/h. Interesting, but not for us.
Obviously, we'll be getting the new 2018 Audi Q5, which will be on sale in Canada this spring and will likely continue to be the best-selling Audi model on our market. However, the excellent, powerful and efficient 2.0 TDI and 3.0 TDI engines won't have the chance to shine in Canada. Well, if they still haven't fixed their emissions problems, it might be for the best.
And what about the Q7 e-tron 3.0 TDI quattro, a rare plug-in hybrid SUV that's equipped with a diesel engine. Its turbocharged V6 and its electric motor join hands to produce 258 hp and 443 lb.-ft. However, in Hybrid mode, they can briefly develop 374 hp and 516 lb.-ft. The Q7 e-tron can accelerate from 0 to 100 km/h in 6.2 seconds and in fully electric mode, it can cover a distance of up to 56 km. Unfortunately, not for Canada.
That's too bad.