2017 Infiniti Q60 Red Sport 400: Mean, But Not Angry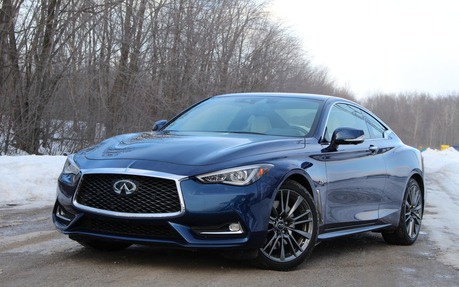 In the luxury compact-car segment, four-door sedans are usually the choice of North-American consumers. Coupes aren't nearly as popular because of their reduced versatility, but they're more stylish and cater more to single people or older folks whose kids have left the family house.
Basically, a luxury coupe is a car that we purchase for ourselves, as a reward for our hard work and to flaunt our taste for something less utilitarian than a sedan. Or a wagon. Or an SUV.
The newly redesigned 2017 Infiniti Q60 has its work cut out for it, because it basically has to measure up to the best two-door coupes Germany has to offer, such as the Audi A5, the BMW 4 Series and the Mercedes-Benz C-Class, in addition to America's Cadillac ATS and Japan's Lexus RC. As these cars all boast high-performance variants to showcase their manufacturer's technological know-how, the Q60 has to show off some potential.
On paper, the Q60 Red Sport 400 falls short of expectations, but it all depends on what we're looking for in a performance coupe. As its name suggests, the 400-horsepower Q60 must bow to the BMW M4's 425 hp, the Cadillac ATS-V's 464 hp, the Audi RS 5's 444 hp, the Mercedes-AMG C 63's 469 hp and the Lexus RC F's 467 hp.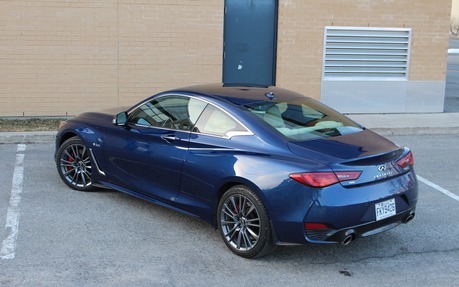 It's equipped with a twin-turbocharged, 3.0-litre V6 that also produces 350 pound-feet of torque between 1600 and 5200 rpm, so there's a lot of mid-range muscle. A seven-speed automatic sends that power to all four wheels, and according to the manufacturer, the Red Sport 400 can accelerate from 0 to 100 km/h in 5.0 seconds flat.
This Q60 is fast, and gets particularly nasty when its Sport+ mode is activated. The engine's growl is typical Infiniti good, and the wheel-mounted paddle shifters respond with quick gear changes. The AWD setup can split power up to 50:50 when extra traction is needed, but otherwise, it will send 100% of the engine's output to the rear wheels.
The car's adjustable suspension does an excellent job of serving up ride comfort in Standard more, but firms up nicely in Sport and Sport+ modes for carving up twisty roads. On the other hand, the Infiniti's Direct Adaptive Steering, which electronically sends road feedback to the driver, can't quite deliver the promised "ultimate sports coupe driving experience." Under normal cruising, the Q60's drive is fine, despite a little steering overassistance.
The 2017 Infiniti Q60 Red Sport 400's fuel economy is decent, with city/highway ratings of 12.5/9.2 L/100 km. And the combined rating of 11.0 L/100 km is only one litre more than the Q60 equipped with the base turbocharged, 2.0-litre engine. However, we could do no better than an average of 12.0 L/100 km during our test.
The Red Sport 400's cockpit is a nice place to spend time in. The two-tone mix looks gorgeous, although we're pretty sure the white leather upholstery will get dirty very quickly, and jeans will end up staining it over time. Otherwise, we like the gray contrast stitching and perforation patterns on the seats, and they have just enough power adjustments to provide us a comfortable seating position. The two rear seats can be used for short distances, although climbing in and out is a challenge and there's not enough headroom. Trunk space is rather small at 246 litres, despite the ability to fold the rear seatback down to throw in longer, but slim, objects.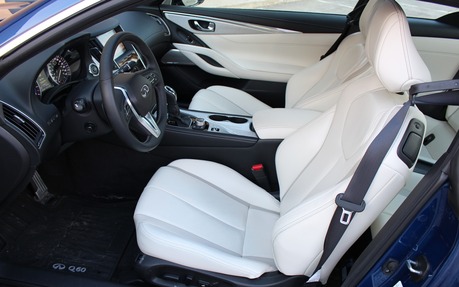 The dashboard design is sufficiently luxurious and build quality is high. However, the optional Silver Optic Fibre interior trim doesn't look too glamorous. On the centre stack, both screens are touch-sensitive, but the lower one is not all that sensitive, so finger pressure must be applied with a little more effort, which can become distracting. At least the main climate control functions are supported by real buttons on each side of said screen. The 13-speaker BOSE surround sound system is fantastic.
The optional Technology Package includes a slew of safety driving aids such as swivelling headlights, high beam assist, adaptive cruise control, front-seat pre-crash belts, blind spot monitoring as well as lane departure warning and prevention. It also rounds up the unloved Direct Adaptive Steering and the equally loathsome Eco Pedal which, when activated, stiffens up and fights our right foot whenever we try to dig into the throttle.
Pricing for the 2017 Infiniti Q60 starts at $45,990, while the Red Sport 400 is listed at $60,990 before freight and delivery charges, and the aforementioned Technology Package adds $3,200 to the final tally. Here's where the Infiniti really shines. It's not as brawny as the M4, the C 63 or the RS 5, but it's about $20K cheaper. The ATS-V Coupe is RWD and costs $8K more.
What we get is a more powerful car for the same price as the 440i xDrive Coupé and the S5 Coupé. The Red Sport 400's most serious threat is the Mercedes-AMG C 43 Coupe, which costs about the same, is a hair quicker and sounds better at wide-open throttle.
If razor-sharp handling, a stiff ride and a prestigious grille ornament is what we're looking for, the German brands should be the one we should look at. On the other hand, if we'd be content with a fast, luxurious and stylish sports coupe that's a more comfortable daily driver, and that should end up being the most reliable on the long run, than the Q60 Red Sport 400 is a choice to consider.
Test drive report
Test model

2017 Infiniti Q60

Trim level
Coupe 3.0t Red Sport 400 AWD Technology
Price range
$45,990 – $64,840
Price as tested
CA$64,840
Warranty (basic)
4 years/100,000 km
Warranty (powertrain)
6 years/110,000 km
Fuel economy (city/highway/observed)
13.1 / 9.3 / 12.0 L/100km
Options
N/A
Competitive models
Audi A5, BMW 4 Series, Cadillac ATS, Chevrolet Camaro, Ford Mustang, Lexus RC, Mercedes-Benz C-Class
Strong points

Muscular engine and AWD
Stylish bodywork
Interior fit and finish

Weak points

Unexciting Direct Adaptive Steering
Small trunk
Could be more efficient

Editor's rating
Fuel economy
Not too shabby, although our as-tested average was higher than expected.
Comfort
For a compact premium sports coupe, the Q60 boasts a comfortable ride.
Performance
Not as blazingly fast as its competitors, but still a powerhouse.
Infotainment
A good system, if a little distracting.
Driving
Good handling, but the electronic steering system still needs work.
Overall
The sports coupe for the daily drive.