Cadillac's Super Cruise: Next Step in Mobility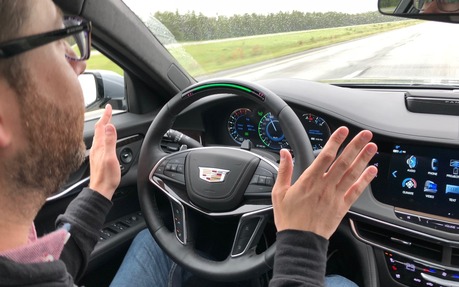 QUEBEC CITY, Quebec – I'm driving on the Autoroute 20 Ouest at a speed of 110 km/h from the coastal town of Kamouraska, situated on the south shore of the St. Lawrence River to the Quebec airport. Seems like a typical Thursday afternoon with a little rain sprinkled in for dramatic effect.
But there are a couple surprises to this scenario: I have no hands on the steering wheel and no foot on the accelerator or brakes—the 2018 Cadillac CT6 being piloted is moving along the highway lane on its own with the flow of traffic.
It's a two-hour ride that would whizz by signs for the towns of L'Islet-sur-Mer, Saint-Jean-Port-Joli and Montmagny with one purpose—to drive in the centre of the highway lane while keeping a safe distance from other vehicles on the road. The technology is Cadillac's version of semi-autonomous travel. It's called Super Cruise and the trip was surreal.
Cadillac Super Cruise explained
Cadillac uses Super Cruise on its flagship CT6, but according to Harry Ng, product manager, Cadillac Canada, it will be expanding across the entire Cadillac line, as well as other General Motors' products by 2020.
For now, the CT6 (standard on Platinum and available in Premium Luxury trim) utilizes the industry's first true hands-free driving technology—at least for highways. It's basically a "super" adaptive cruise technology that uses lane keep assist and 360 degrees of surround cameras. The combination of both technologies along with a driver attention system and high-definition 3D LiDar mapping data that has covered all of North America, allow Super Cruise to push to the forefront of a semi-autonomous craze that includes Tesla's Autopilot system, Nissan's ProPilot Assist, Mercedes-Benz' Active Distance Assist Distronic and Volvo's Pilot Assist.
The technology takes only a few button touches to activate. Simply enter a divided, limited-access highway and a white steering wheel should pop up on your centre console gauge. Press the Super Cruise icon (steering wheel logo within two lanes) on the left side of the steering wheel and the original white wheel on your screen illuminates to green, as well as the top section of the steering wheel. With Super Cruise activated, it will scan up to 2.4 km of the road ahead and its surroundings to navigate through any curves or elevation changes. If a lane change is needed, indicate your direction and steer the car into the desired lane. The steering wheel will turn blue, but once settled within the lane, Super Cruise will reactivate back to green colours continuing the drive with no acceleration, braking or steering input by the driver.
The difference with Super Cruise can be seen right away by the driver as it watches your eye movements rather than steering wheel touches. Super Cruise doesn't have a time frame for the technology to disconnect, as long as you abide by its rules, which means one can use this for hours upon end without having to touch anything.
The technology is capable of going long distances due to an infrared camera above the steering wheel that watches over your eye movements at all times, making sure your focus is on the road. If you look at your phone and block your vision from the road, the CT6 will flash a red light from the top of its steering wheel at you. Take a glance over to your driving companion for more than four seconds, and the same reaction will occur, just like a jealous significant other. If you don't react, your seat vibrates harshly. All of it is perplexing, scary and intriguing, creating mixed thoughts about it all.
How did it fare?
Many events showcase semi-autonomous technology on a closed circuit, but this program was taking place in the real world thanks to its 3D mapping data. Once on the highway, all that was needed were some lane markers (multi-lane with solid lanes on the outside); otherwise, the system deactivates notifying the driver through a blinking light on the wheel and some vibration.
A worry could result when the highway lines change without the attention of the driver. The technology could only do so much in terms of alerting the driver and keeping their eyes on the road, but is the driver really staying focused? Can they react in time to an obstacle in front of them or the deactivation of the system right before a curve in the lane? In some instances I purposely gazed at the abyss, but unlike philosopher Friedrich Nietzsche's famous saying, the abyss didn't gaze back at me with blinking lights. It didn't realize my thoughts were off in the clouds, counting sheep without a clue what was happening directly in front of me.
Other than those brief moments of staring into space, Super Cruise held up to its bargain of a safe and secure method of travel. For two hours, the semi-autonomous technology stayed activated for most of the time with interruptions only coming in construction zones and a few covered lane markers. I never disengaged it by using the brakes, and it slowed down on its own when we hit traffic closer to the Quebec airport. The seamless trip allowed me to sit back and be on alert, but without relaxation both from my own nervous thoughts and the blinking lights of Super Cruise whenever my eyes drifted away.
Do we need it?
Outside of being easy on your hands and feet, the system isn't as relaxing as Cadillac Canada says it is. You still have to be aware at all times, so the biggest question remains whether we really need it?
The answer to whether it's a necessity is obviously—no. But how many of these in-car gadgets do we really need? Automakers are competing for the next big thing in mobility and as technology advances, so does safety with semi-autonomous technology being a big part in the advancements of vehicle-to-vehicle and vehicle-to-infrastructure communication, which should eventually save many lives on the road.
A major concern would be the tendency to text or chat while not looking at the road in the CT6, but at least Super Cruise is constantly on watch, and if one doesn't respond or look ahead, the technology takes control of the car through visual, audio and physical warning, eventually resulting in the car coming to a complete stop while the authorities are notified of your whereabouts thanks to OnStar.
The system isn't perfect, but neither is a human behind the wheel. Cadillac is positioning itself as a leader in semi-autonomous technology via Super Cruise with plenty of redundancies for added safety. Thus far, it's the best in the business and it can only get better by 2020 when it rolls out to other General Motors' products.