2019 Audi TTS Coupe: on the Famed Mountain Course at the TT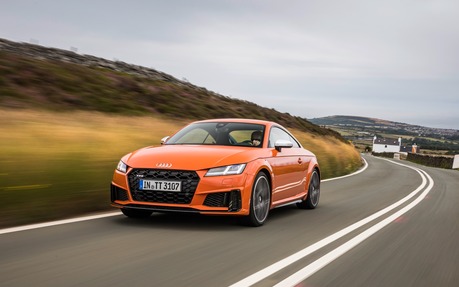 DOUGLAS, Isle of Man – The corners have names like Creg-ny-Baa, Hailwood Rise and Guthrie Memorial, to name but a few of the 200-plus curves and bends that make up the 37.73-mile circuit of the famed Isle of Man Tourist Trophy motorcycle race, which has been run here yearly since 1907. Every year, over 40,000 racing fans descend on the Isle of Man to watch motorcycle racers—amateurs for the most part—ride their motorcycles reaching top speeds exceeding 320 km/h on closed public roads.
In 2018, Peter Hickman, riding a BMW S1000 RR, set a new lap record averaging 217.989 km/h for a lap of the race. Total. Sheer. Madness. That is what is the Isle of Man TT is all about. Every year, racers die here, crashing into stone walls that stand mere inches from the track's edge, so it's definitely not for the faint of heart. If you are into motorsports, this is hallowed ground…
Today, I get to stand at Creg-ny-Baa corner and listen to a quick briefing given by someone who knows what the Isle of Man TT Race is all about. Richard "Milky" Quayle won the 2002 TT in the Lightweight 400 class and is today in charge of rookie orientation at the Tourist Trophy. If you ever get to race in the TT, it's because "Milky" has signed off and said you're good to go.
I won't be riding a motorcycle, but I will get to drive the 2019 Audi TTS Coupe on a closed section of the Mountain Course, running between Creg-ny-Baa and The Hairpin, and it's the first time ever that a section of the course has been closed to traffic for a driving event other than the Tourist Trophy and a handful of other motorcycles races run on the Isle of Man every year. As the road is closed, we get to use both lanes so we can apex every corner, secure in the knowledge that nobody will be coming our way in the opposite direction. Yes, I am stoked…
As a pro, Richard "Milky" Quayle emphasizes the need for smoothness as the secret to speed here. Build a good rhythm, as well as momentum, and carry that into the corners, he says. I settle in the driver's seat of a Pulse Orange 2019 Audi TTS Coupe for my run, with Costa Mouzouris, a good friend who is both a motorcycle and car journalist, sitting in the passenger seat. Cameras and microphones are rigged in the car, as I will attempt to describe the goings-on as I drive. Not sure how all that is going to play out, but hey, you only live once, right?
Dynamic. Manual. Rear Wing. Go.
The Audi TT celebrates its twentieth anniversary this year, as the first production cars rolled off the assembly line in 1998. Celebrated as a true design icon, the original TT came in need of a quick aero fix with a rear wing being added to the car shortly after its debut, as some drivers were experiencing rear-end lift and losing control at Autobahn speeds.
Since then, all TTs have been equipped with a mobile rear wing that automatically deploys when the car is driven at high speeds, or when the driver decides to do it manually at the touch of a button, for which I am presently reaching while the car is idling at our improvised start line. Costa thinks that this is a good idea also. I've got the car in both the Dynamic and Manual modes so I can shift with the steering wheel-mounted paddles. The 301-horsepower, turbocharged 2.0-litre four-cylinder engine delivers its torque as I floor the throttle and, in a flash, we're gone…
It's not long before disaster strikes. Literally. As we reach Hailwood Rise at close to 150 km/h, a startled flock of seagulls takes flight and I gently kiss one with the front fender on Costa's side of the car. I glance in the rear view mirror and see it flop on the tarmac, dead. Somehow, both Costa and I are unfazed—must be the adrenaline—and I press on. Not sure what a dead seagull tastes like when cooked, but maybe the course sweeper will find out.
What's new?
For the 2019 model year, the Audi TT, and its TTS variant, get a facelift and some technical modifications, as well as extended standard equipment. The Singleframe grille now has a three-dimensional design and the side air inlets are larger. Three new exterior colours have been added, with Turbo Blue and Tango Red joining the previously mentioned Pulse Orange.
As far as the oily bits are concerned, the restyled TT now gets a new S tronic seven-speed dual-clutch gearbox, which replaces the previous six-speed unit, with closer ratios for the first six gears and the seventh gear acting as an overdrive to lessen engine revs and drone as well as to reduce fuel consumption at highway speeds. The Audi drive select dynamic handling system is now standard on the TTS, complete with magnetic ride adaptive dampers.
The TTS has always had a very stiff chassis and very good driving dynamics, albeit with some understeer, courtesy of the car's all-wheel drive system. However, the TTS I am driving today is fitted with 20-inch alloys and Pirelli P Zero tires, and that larger footprint makes the car very responsive to steering inputs on corner entry, which means that I am having a blast.
The all-wheel drive's central clutch reacts in milliseconds, sending torque where it's needed, and the TTS feels well planted even under full power coming off some of the slow second-gear corners. Torque is now up to 295 pound-feet and the TTS Coupe weighs 1405 kilograms. It all adds up to impressive performance, as the car's short size and wheelbase allow it to carve through bends with composure as the scenery is flying by. After running from Creg-ny-Baa to The Hairpin, it's time to pull a 180 and go at it again in the opposite direction.
As I finally come to a stop at our initial start point, we get a short break and I can get reacquainted with some of the particulars of the TT. It is such a small car that the back seat is symbolic at best, only good enough for short trips with small children or leprechauns who have made their way over on the Dublin ferry. Connectivity is good, with two USB ports and standard Apple CarPlay, and the car of course features the stellar Audi virtual cockpit, which was first introduced on the TT a few years ago and has since found its way into just about every vehicle Audi makes. Build quality is impeccable and the materials used in the cabin are top-shelf.
It's now time for Costa to drive the car, which he does very well, as I ride shotgun without a gun looking for more seagulls to hunt while admiring the incredible scenery and basking in the rarefied experience of driving the new TTS on the Mountain Course of the Isle of Man TT. Trust me, boys and girls, it does not get much better than this…
Test drive report
Test model

2019 Audi TT

Trim level
S Coupe
Price range
N/A
Price as tested
N/A
Warranty (basic)
4 years/80,000 km
Warranty (powertrain)
4 years/80,000 km
Fuel economy (city/highway/observed)
10,3 / 8,7 / N/A L/100km
Options
N/A
Competitive models
Alfa Romeo 4C, Chevrolet Corvette, Lotus Evora, Porsche 718 Boxster
Strong points

Distinctive styling
Uprated torque of the engine
Seven-speed dual-clutch gearbox
Virtual Cockpit design
More standard equipment

Weak points

Very cramped backseat
Ride can be firm
High price
Cost of options

Editor's rating
Fuel economy
The new seven-speed dual-clutch gearbox reduces engine revs and fuel consumption at highway speeds.
Comfort
The rida quality can be firm.
Performance
Power is rated at 301 and torque is uprated to 295 foot-pounds.
Infotainment
The virtual cockpit acts as the interface and Apple CarPlay is standard.
Driving
The TTS Coupe is light (1405 kilos) and the all-wheel-drive system reacts quickly to drive torque to the appropriate axle.
Overall
The car has not changed much from a styling standpoint, but the TTS remains an attractive proposition as a an all-wheel-drive and distinctive sports car.