2019 Audi TT RS Hits the Big Apple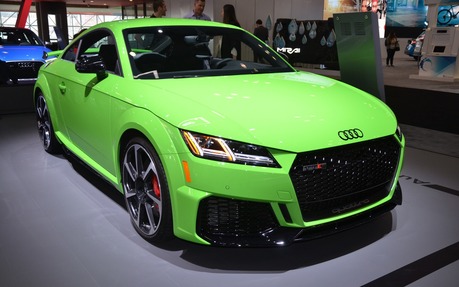 Audi hosted the North American premiere of its unique TT sports coupe in high-performance RS trim at the 2019 New York Auto Show. The German automaker also seized the opportunity to celebrate its 50 years of operations on our great continent.
For 2019, the TT received a facelift and the RS variant is no exception. It features a matte black Singleframe grille with a tridimensional look and large openings on each side of the front fascia.
The fixed rear wing returns, but there are some striking new colours on the menu including Turbo Blue, Tango Red Metallic and Kyalami Green. Let's not forget the new wheels, such as the 20-inch alloys that are part of the Dynamic Package along with red brake callipers and a sport exhaust system with black tips.
Of course, the thing that makes the Audi TT RS so unique among sports cars is the five-cylinder engine under the hood, shared with the RS 3 compact sedan.
A Sound Like No Other
Actually, it's the sound of this powerplant at full throttle that creates an addiction. A raspy, syncopated melody that can only be compared to a hard drug.
The five-cylinder fires up in a 1-2-4-5-3 sequence, meaning the ignition alternates between cylinders that are adjacent and others that are positioned farther apart. This unique engine design creates an equally unique tempo, giving Audi's 2.5-litre mill its signature sound.
Equipped with all-wheel drive and launch control, the 2019 Audi TT RS accelerates from 0-100 km/h in just 3.7 seconds, pinning you to your seat with 1.2 G-force. That, my friends, is the sort of performance you normally only see with exotic sports cars.